Spanish scientists analyze European and veined squid diets
Monday, February 1st 2016 - 07:00 UTC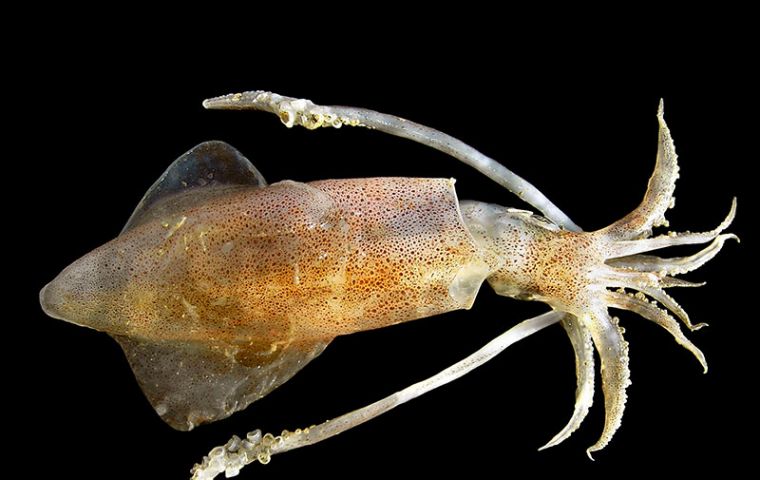 A group of Spanish scientists has analyzed for the first time the European and veined squid diet in the Mediterranean. European squid (Loligo vulgaris) and veined squid (Loligo forbesii) are two morphologically nearly identical species that inhabit the Atlantic Ocean and the Mediterranean.
Although their bathymetric distribution overlaps, European squid prefers the shallower waters of the platform, while the veined squid generally moves in deeper water over the slope. Both species are economically important for the Spanish fishing fleet, both artisanal and trawling, and even important for recreational fishing in the case of the European squid.
There are numerous studies on the biology of these species, but their diet had only described for Atlantic populations.
Researchers from the Balearic Oceanography Centre from the Spanish Institute of Oceanography (IEO) and the Mediterranean Institute for Advanced Studies, IMEDEA (CSIC-UIB) who participated in this study analyzed the diet of these two species of squid from the stomach content of over 2,000 individuals obtained from the catch of the fishing fleet in the Balearic Islands, and samples taken during international European program MEDITS's surveys.
In a paper published in the journal Marine Ecology Progress Series (MEPS), the scientists describe the specific composition of the diet and investigate its variation in relation with height, sex and time of year.
The results show that, the same as with Atlantic populations, the two species of squid mainly feed on fish. Despite their potential overlapping, they prey on different species. While the European squid prefers coastal fish like jack mackerel or picarel (spicara smaris) , the veined squid consumes mesopelagic fish (known as horned lantern fish) which inhabits deeper waters.
Both species diet change with size, though curiously the change occurs at a larger size in the European squid. In the case of the latter, juveniles prefer prey that live near the bottom (small crustaceans and gobies) and then change to a diet based on benthopelagic and larger (e.g. sparidae) fish diet.
In spring, there is a change in diet, probably related to their reproductive phase. This change involves an increase in the intake of benthic species (bottom) and especially the consumption of polychaete worms rich in omega 3, which would improve their reproductive potential.
In the case of the veined squid, however, a diet change, related with size, has only been observed during the second half of the year.
In summer, the smaller specimens feed on small crustaceans and pelagic gobies (transparent goby), while larger ones eat krill and lantern fish. The importance of krill in the diet of veined squid had not been previously described in Atlantic waters.
Thanks to existing knowledge on vertical migration of krill reaching different depths depending on the time of year, this new work shows that during the summer and autumn, larger veined squid specimens, move deeper in the water column to feed on these and other mesopelagic preys. (FIS).