FIFA puts Conmebol and Concacaf funding 'on hold' given 'current proceedings'
Tuesday, February 2nd 2016 - 11:59 UTC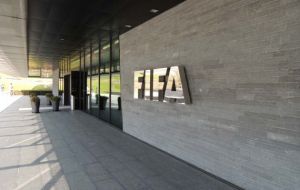 FIFA has cut off funding to the corruption-hit confederations for football in the Americas, the global football body said on Monday, in a move which could cause future cash flow problems for the two organizations.
The two bodies, CONCACAF and CONMEBOL, have been at the centre of a corruption scandal that has engulfed world football and seen 41 individuals and entities charged in the United States on a variety of graft-related offences.
"We can confirm that in light of current proceedings involving individuals related to CONMEBOL and CONCACAF, FIFA has put contributions towards these two Confederations on hold until further notice," said a FIFA spokesperson.
"We are currently assessing further steps to be taken to increase the level of assurance which may again enable FIFA to release such funds in the future."
A source close to CONCACAF said it had not received $10 million in payments from FIFA, including expected World Cup revenues and money from the global body's Financial Assistance Program.
CONMEBOL is responsible for the sport in South America while CONCACAF covers North and Central America and the Caribbean.
In a statement, CONCACAF said it had fulfilled all FIFA requests for documents and information "regarding the new administrative, compliance, and procurement processes that have been implemented at the Confederation to ensure the issue is resolved in a timely manner".
CONCACAF has seen its last three presidents indicted by the Department of Justice with Trinidad and Tobago's Jack Warner, Cayman Islander Jeffrey Webb and Honduran Alfred Hawit all facing charges.
CONMEBOL has had former president Nicolas Leoz and their most recent leader Juan Angel Napout, both of Paraguay, indicted along with several other leading officials.
The two organizations are due to hold a joint 'Copa America' tournament in the United States in June to celebrate CONMEBOL's centenary.