Iowa surprise: Senator Ted Cruz beats Donald Trump: "I'm honored by second place"
Tuesday, February 2nd 2016 - 06:12 UTC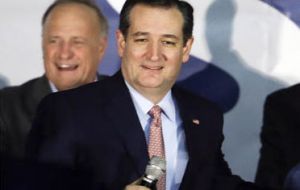 Texas Senator Ted Cruz has won the Iowa Republican caucuses, the first vote of the US 2016 presidential election. He took 28% of the Republican vote, beating his rival, the once frontrunner Donald Trump, and Marco Rubio.
"Tonight is a victory for courageous conservatives," he declared, to great applause, as he railed against Washington, lobbyists and the media.
Republican victor Ted Cruz triumph was a reward for the months he spent criss-crossing Iowa to woo its influential conservative and evangelical leaders.
As country music blared across the loud speaker, the 45-year-old senator relished his victory, taking his time to come to the stage in Des Moines, hugging supporters, family and staff.
"Iowa has sent notice that the Republican nominee and the next president of the United States will not be chosen by the media, will not be chosen by the Washington establishment," he said.
"Tonight is a victory for courageous conservatives across Iowa and all across this great nation."
Trump congratulated the Texas senator and said he was "honored" by the second-place finish.
Mr Rubio, who has struggled to gain traction in recent months, has performed far better than expected, and finished in third place - just one percentage point off of Mr. Trump.
Iowa has an unusual election system called a caucus, which involves people gathering at private homes, schools and other public buildings across the state.
Over the coming months, the other 49 states as well as US territories will vote for the party nominees. Each states' delegates will be tallied and a nominee will become apparent as the summer draws near.
In November, the US will pick who its next president will be. He or she will assume office in January 2017.