Chilean football fans vandalize Malvinas memorial in Rosario: 46 arrests
Wednesday, February 3rd 2016 - 07:10 UTC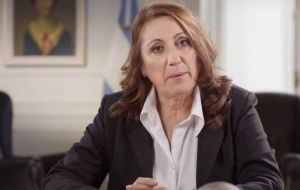 Two of the 46 Chileans arrested on Monday for vandalism against a Malvinas Fallen Monument in Argentina's second largest city, Rosario, were still waiting on Tuesday for the prosecutors' charges before going before a federal judge. During the first hearing, advised by a government supplied lawyer, the Chileans abstained from making any statement while demanding to be set free.
The Chileans are fans of Universidad de Chile football team travelling to Montevideo, Uruguay, where their squad played on Tuesday evening against River Plate Uruguay, for a qualifier to the Libertadores Cup, one of the main competitions in Latin America. The visiting team went down 2-0.
The Chileans are accused of damages to "public property" for having defaced, scribbled with graffiti, torn benches and perpetrated other actions which resulted in their arrests following scuffles with visitors of the Malvinas monument and later with the police.
However only two, grownups, who admitted responsibility, remained in custody since the rest were set free because they mainly minors. The two admitted responsibility for the vandalism in representation of the group.
The actions were repudiated by Malvinas veterans organizations and Rosario city officials who described the whole affair as "an incident with a high symbolic meaning" coming from Chileans and demanded culprits be made to pay for the damages.
Although the 'damage to public property' crime does not necessarily imply an incarceration term, particularly first time offenders, public opinion in Rosario plus the media were demanding that courts should not be lenient, even when most of them were youngsters, football fans.
"The vandalizing of the Malvinas memorial is an incident with a high symbolic meaning, given its perpetrators", said Gustavo Leon, chairman of the city government. "We demand the culprits pay for the repair of the damages".
Mayor Monica Fein met with Malvinas veterans and proposed a "symbolic embrace' around the memorial "to value the symbols and defend the identity and memory of our Rosarinos and all Argentines".
"The memorial is an opportunity to review our history and honor our brothers fallen in Malvinas. Impeding these aggressions is essential to live in peace. We must embrace each and all the Malvinas veterans and their families", added Mayor Fein.
Likewise the Chilean consul in Rosario strongly repudiated the acts of vandalism against the memorial.
"I'm very sad with all that has happened. It's an isolated act of vandalism. We in no way promote this kind of behavior. We understand that the Argentine judicial system must proceed as indicated by law", said consul Marcelo Flores Aliaga.