Recession biting in Brazil: record net savings withdrawals in January
Friday, February 5th 2016 - 08:27 UTC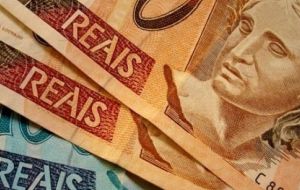 Net savings withdrawals in Brazil rose to a record high in January, with deposit outflows exceeding inflows by 12.03 billion Reais (some $3.09 billion), the Central Bank said Thursday.
Brazilians withdrew 161.59 billion Reais (some $41.52 billion) and deposited 149.56 billion Reais (around $38.43 billion) last month.
The net outflow of savings deposits rose to its highest point since the Central Bank began keeping track in 1995.
The 648.64 billion Reais (some $166.69 billion) deposited in savings accounts in Brazil yielded 4.08 billion Reais (some $1.05 billion) in interest last month.
In 2015, Brazilians' savings account withdrawals exceeded deposits by 53.57 billion Reais (roughly $13.39 billion), an annual record.
The net savings withdrawals are due in large part to the high level of Brazil's benchmark SELIC interest rate (currently 14.25%), which encourages investors, who earned 8.07% interest in savings accounts last year, to seek higher yields in other fixed-income investments.
The net outflow of savings deposits also has been attributed to Brazil's recession and high inflation and joblessness, which have forced Brazilians to withdraw money for basic expenses.