Argentina rejoins the real world
Tuesday, February 16th 2016 - 15:16 UTC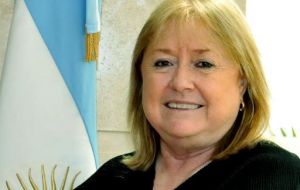 UN John J. Metzler(*) Reversing the trend of economic mismanagement, ending a fifteen year debt impasse with foreign lenders, calming a percolating political crisis over the disputed Falkland/Malvinas islands in the South Atlantic, and overcoming the image of unpredictability, Argentina's new conservative government faces serious obstacles in reintroducing Argentina to an often skeptical world.
The election of Mauricio Macri's government in December opened an opportunity for overdue democratic change but is still shadowed by the lingering legacy of President Cristina Fernandez Kirchner's political theatrics and impulsive left-wing socialist rule. Indeed Peronism, a heady mix of personalism, high octane nationalism, and state socialism, has influenced Argentina's socio/political landscape, long after the rule of Juan and Evita Peron had ended. Susan Malcorra, Argentina's new Foreign Minister, visited New York to make the case for her country's future. Speaking before the prestigious Council on Foreign Relations. Minister Malcorra who most recently served as Chief of Cabinet for UN Secretary General Ban Ki-moon following a long career in the private sector at IBM and Telcom Argentina, stressed that Argentina must become a "trustworthy" partner in the international community.
"It is clear that what we have to do today is show to the world that Argentina is trustworthy, that we have become a partner that can be talked with… even though historically there may be proof that we haven't behaved always the way we should.," she stated alluding to mixed signals and overall business hostility form the previous Peronista government.
Alluding to the new government of Mauricio Macri, she said, "In the first few days of the administration, he eliminated all the hurdles on imports and exports that have become a real nightmare for the ones who are trying to do business in Argentina. " She focused on the festering fifteen year dispute between Argentina and foreign creditors where $9 billion in debt remains outstanding. Minister Malcorra stated that her government has put an offer on the table to the various hedge funds; to "regularize the relationship in the financial front so Argentina again is open to the world in a manner that is predictable and systemic."
Argentina reportedly is offering a deal of $6.5 billion to pay off debt. Though any agreement must go through the Congress where her government does not have a majority, Malcorra asserts that a "broad spectrum from the opposition believes that this has to be resolved in order to open up for investment opportunities, financing opportunities."
Viewing the wider issue of frosty relations with Washington, she stressed, "The U.S. is the largest power in the world. One cannot deny that relating to the U.S. is very important. We will have common interests most of the time, and we will live with our differences when that has to happen."
Regarding the Falkland/Malvinas Islands in the South Atlantic over which Argentina and Britain fought a war in 1982, Malcorra presented a cautiously optimistic view stating, "We also want to keep the dialogue open with the U.K. in order to work on a potential solution for this longstanding issue." She added, "I do believe deeply in the principle of sitting at the table… I am not suggesting this is an issue that is going to be sorted out overnight. I think it has deep roots in both peoples. This is something that is very, very close to the heart of Argentinians."
"Trade is the driver of opportunity in the world these days." she stated. Business with China has boomed as Beijing has become Argentina's second largest trading partner, surpassing the U.S. Trade between the USA and Argentina has fallen from $15 billion in 2014 to $13 billion last year; U.S. exports reached $9 billion while imports from Argentina stood at $4 billion. Inflation stands at a stubborn 27%, and GDP growth is near negligible, a legacy of the previous era.
Though blessed with abundant agricultural resources and extraordinary potential, tragically Argentina has been cursed by bad governance and state socialism. Yet as the Minister stated, "When you look at the agribusiness, which is one of our big competitive advantages, we produce food for about 450 million people. We believe that in three, four years' time, we could be producing food for around 750 million people. That's a huge, huge jump. "
A recent Buenos Aires Herald editorial advised, "Beyond some basic rules needing to be restored in the Argentine economy, the real solution is a profound reform of corporate structures in order to make the economy more genuinely competitive." So true and overdue.
John J. Metzler is a United Nations correspondent covering diplomatic and defense issues. He is the author of Divided Dynamism the Diplomacy of Separated Nations: Germany, Korea, China (2014).