British Defence Secretary, Michael Fallon, visits the Falklands
Wednesday, February 17th 2016 - 10:10 UTC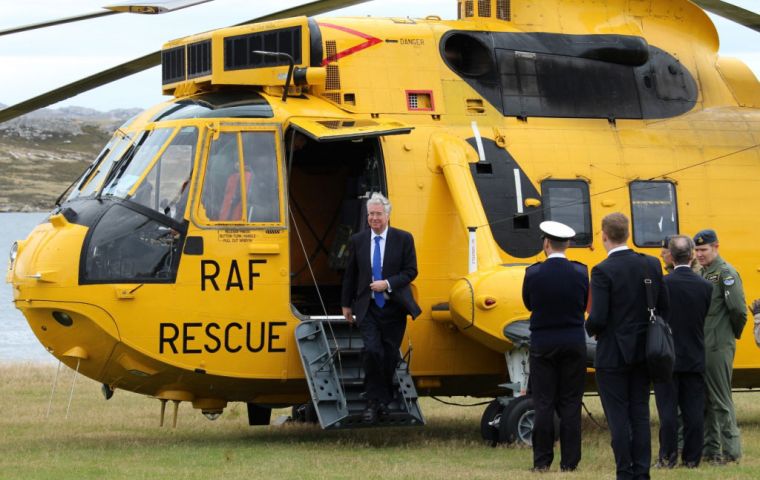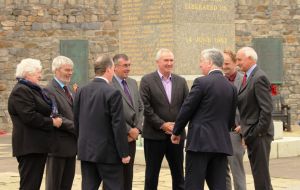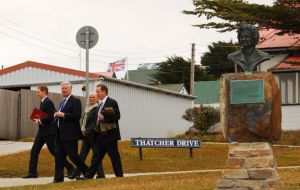 Michael Fallon, the British Defence Secretary, has become the first Defence Secretary to visit the Falkland Islands in 14 years. The House of Commons is currently in recess this week and the Defence Secretary's visit directly follows the visit of four other British MPs to the Falklands.
The British Defence Secretary, Michael Fallon, has become the first Defence Secretary to visit the Falkland Islands in 14 years after he arrived on Monday for two day tour of the Islands. During his visit he has visited a number of significant sites around the Falklands, including the capital Stanley and the site of the British landing in 1982, San Carlos. He is scheduled to visit the British Military base, Mount Pleasant, on Wednesday.
Speaking at a press conference on Tuesday afternoon, Mr Fallon stated his visit was not a controversial visit as some had suggested earlier this week, including some in the Foreign Office, but was rather a "routine" and "normal" visit, one which a Defence Secretary would be expected to make. A source from Whitehall told the Mail on Sunday that "Michael [had] irritated the Foreign Office. They think it looks bellicose and will make it harder to do business with Buenos Aires."
When asked about the controversy, Mr Fallon noted that he was "not aware of any controversy", that it was normal for a Defence Secretary to visit Military bases, and it was perhaps more controversial that no Defence Secretary had visited in 14 years. He has previously visited the British base in Gibraltar, a territory which shares similar sovereignty issues as the Falklands.
The reason many have questioned the timing of the visit is that it could inflame tensions and undermine the renewed attempts to improve relations between Britain and Argentina. The newly elected Argentine president, Mauricio Macri, is seen to be much more conciliatory than his predecessor and recently spoke of restoring relations with the UK. Speaking on the risk of igniting tensions with Argentina, Mr Fallon commented that the "door is open" for better relations with Argentina, and he hopes for a normalisation of the relationship in the future.
Britain announced in March 2015 that defence spending on the Falklands military infrastructure would amount to £180 million over the next 10 years. Referring to this Defence Review, Mr Fallon stated that the £22 million refurbishment of the Mare Harbour port and the £60 million new power station at the military base would be awarded contracts later this year. The increased spending on defence under the Conservative government, Mr Fallon stated was partially in response to the commitment to meet the NATO target of 2% of GDP being spent on defence and partially to meet the current challenges faced elsewhere, including in the Middle East and from Russia.