Malvinas, a dream that can be rescued
Thursday, February 18th 2016 - 01:03 UTC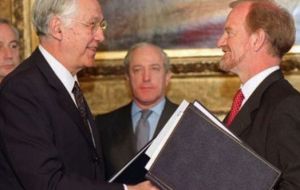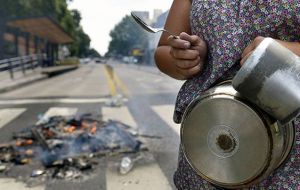 Under this heading Dante Caputo, a former Argentine foreign minister (1983/89) with an impeccable domestic and international academic background addresses the 'Malvinas question' and proposes Argentina sets a 2033 target for a new attempt on the Islands, this time trying to convince the Falkland Islanders, and that in seventeen years time, the country is reliable and sovereignty discussions should then take place.

This is because so far since Argentina's 1989 approach, a long time has elapsed, ten of a seduction policy, and twelve of an aggressive, sometimes over-excited language, both with no results, creating frustration and making the Malvinas an ever distant chimera. Caputo displays his ideas to avoid errors of the past proposing "non explored alternatives" so far, but underlining that the main effort must come from a modern, united, predictable, serious Argentina.

When in 1989 Argentina abandoned the policy of pressing and isolating the UK through the UN General Assembly votes, the last door to the beginning of a solution to the question was closed. UK was isolated and its reiterated refusals to negotiate had a growing cost. Concern over the UN general assembly votes forced then PM Margaret Thatcher to intervene personally pressing on countries to change their vote.

In 1989 and 1990, most issues that were addressed by the General Assembly were solved or on route to. The end of the Cold War unfettered most tensions and regional litigations.
At that moment the new Argentine government privileged the resumption of diplomatic relations with the UK and withdrew from the UN General Assembly agenda the Malvinas question.

Naturally the issue lost tension, keeping the status quo relieved political costs for the UK and the active support of many countries to the Argentine position disappeared. The arguments on which Argentina was working at the UN were dismantled, to such an extent that currently a return to the multilateral strategy, would be unfeasible.

From then on two paths were attempted: seduction of the Islanders and later an oral diplomacy based on a strong language, and too often over excited. None of the two had the least result. The first was implemented during ten years and the second for twelve. So the balance sheet of the quarter century was a failure.

Living with failure led us to a liturgical strategy: we celebrate the claim ceremony; we clamor for the occupied territory and try to ignore our lack of skill to alter the situation.

Of course we can continue on this course, our old tradition of imagining we live in futures that will never exist, adrift, painfully with no goals.

The interest of the Malvinas question should not only be territorial. We have three million square kilometers which we have not managed too well. I don't believe the Islands will change much to that respect: we'd have more territory ill-managed. I know this can be irritating to readers, but it will continue to be true.

Plus the cost of a lost territory, I think the Islands have become a dream that helps to keep our unity and it is their where precisely rests its main value. But if those dreams become chimeras they will have the opposite effect: frustration and transforming Argentines to accept with resignation a dull future. There are not many things that unite us. Past does not push us, rather it divides us. The same with the future, in the search of some Argentine dream. Not even history or the future attracts us, difficult to be a nation under those conditions.

Said this, I believe that if we insist in the paths we have tread, we will turn our dreams into chimeras, frustrations. We know it but we don't want to think about it: UK will not change its position; Argentina does not have diplomatic pressure capacity and the Islanders don't have the least interest in belonging to a country which exhibits the history we've been through. One thing is that we do not accept in our juridical theories the will of the Islanders, and another is that that will does not exist: it exists and counts very much to the UK. If someone does not understand the difference between a doctrine juridical position and reality, decisively politics should not be his field of work, much less internationally.

In the ideas I'm proposing, I'm not assigning a central role to juridical arguments, this strategy does not have relation with international law, for the simple rationality that even if all reason was on our side, it would be useless. This is not an issue of justice, it's an issue of interests, power and opportunities.

The ideas proposed do not deal with what is fair, but with what is achievable, and at the same time, desirable for our country, Argentina.

It's worth assessing the risk of our proposal, in the language of economists, its opportunity cost. That is, what other path with better results would we be leaving aside if we adopt what I'm proposing. I don't think there's another alternative, and if there was, it's time to make it public and put it to practice. And since so far nothing indicates such an option exists, I see no opportunity cost in what is proposed.

The first step in this strategy consists in reaching an agreement by which until 2033 (second centenary of the Islands being taken by the British), all sovereignty positions are frozen by both sides. At a quick pace but always guided by opportunity and prudence, we should open to trade and people's movements between the Islands and the continental territory. All activities that can be performed by a foreigner with residence in Argentina, should be made extensive to all Islanders.

The amplitude and norms to rule such an opening must obviously be discussed by both sides, but the objective is that Islanders can reside for as long as they wish in our country, be involved in all activities, in principle, with no limitations at all. Trade, medical care, education at all levels are examples of activities and services to which Islanders would have access.

To start with it would be desirable that in either way any document should be required, be it not for the equivalent of the DNI (Argentina's ID).

At the beginning very few Islanders will attempt having a taste of the continent simply because of all the fears and disturbing stories from the past. But this is an exercise of almost two decades during which Argentina could begin a new chapter, maybe even an era, different of its life. Of course if we want to continue living our pendular adventures, exalted populisms and incapable conservatisms, far from the big leap that national development demands, Argentina will not be attractive for the Islanders or for the majority of sensible people who inhabit our planet.

But if we inaugurate a different history, little by little we would begin to transform our country into a place where a stable, modern, predictable, reliable life naturally evolves, and if the great overseas development lines perceive it, relation with the Islanders would alter fundamentally.

If we can keep to this track with reasonable success, in 17 years time we could begin a totally different discussion between Argentina and the UK, because simply, and this is the central point of our proposal, if the perception of the Islanders change, so would the alternatives that could be discussed with the UK.

We're not trying to seduce anybody, like in the nineties, but show a country that transforms and becomes attractive.

Obviously this is an exercise that needs not only an agreement on our side, but from the majority of Argentines. In such a way that if the idea advances, I would not discard, following on the opinion from the British, a popular consultation. This exercise should be under the sovereignty umbrella of which we wrote about with some colleagues in 1985, by which nothing that was said or happened during that time could be used as an acknowledgement or title for the sovereignty claim.

If we tried it, we would be betting on ourselves, on our capacity and pride to make Argentina a mobilized country behind all the dreams to achieve and united behind those dreams fulfilled.