Obama's visit is evidence Argentina is reinserting in the world, underlines Malcorra
Friday, February 19th 2016 - 03:52 UTC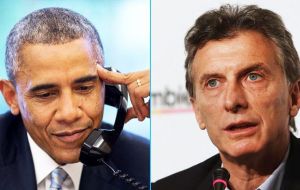 "The coming visit of President Barack Obama is irrefutable proof of what we have said all along: Argentina is reinserting itself in the world, maintaining but also opening links with all our other partners and potential associates", Foreign minister Susana Malcorra underlined following the White House statement that the US president will be visiting Argentina next 23/24 of March.

Malcorra said that the coming visit of Obama "is very important, as has been the visit of the Italian prime minister Matteo Renzi, and as will be the visit of French president Francois Hollande", who is expected in Buenos Aires next 24 February.

"In the first conversation between the two heads of state, president Obama announced to president Mauricio Macri that he expected to visit him soon", revealed Malcorra in reference to Obama's phone call to congratulate the newly sworn in Argentine leader.

Malcorra added that the fact that Obama has decided to come in the first quarter of the first year of Macri's administration "is a clear signal of the interest and priority the United States assigns to Argentina and how our relations are valued".

"The agenda is long" said Malcorra in reference to the issues of the bilateral relation between Argentina and the United States: "we will have to establish priorities so as not to extend ourselves too much and lose focus. That is the task we have ahead in the coming weeks".

As to the specific issues, minister Malcorra underlined that 'investments and trade are crucial. All that has to do with opportunities in those areas which most interest us such as renewable energies, agro-industry and tourism, and obviously all related to research and development".

According to the White House release on Thursday, Obama will be arriving in Argentina following his visit to Cuba. As to the US president's trip to Cuba, Malcorra said that "it was the natural step following on the decisions agreed by the two countries last year. It is very encouraging, and it is undoubtedly historic".