Falklands: Malcorra confident 'there's a horizon of possibility for dialogue'
Saturday, February 20th 2016 - 10:08 UTC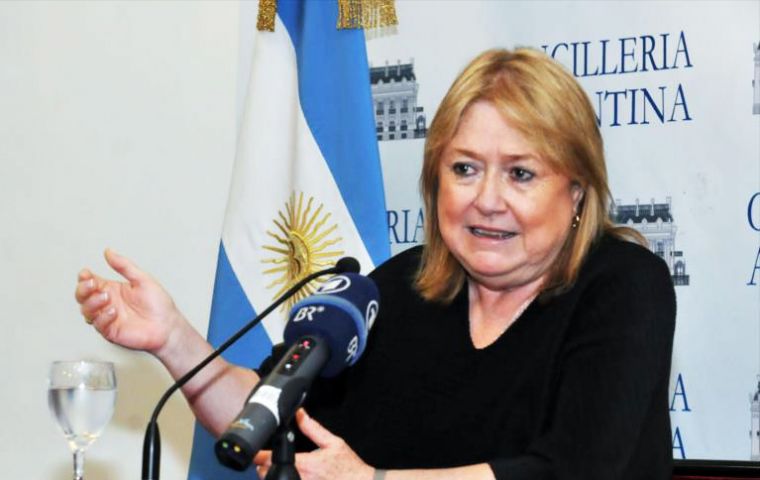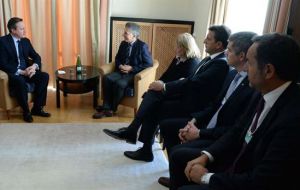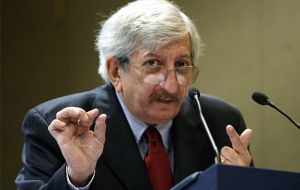 Foreign minister Susana Malcorra said that analyzing the different scenarios in the UK regarding the Falklands/Malvinas sovereignty dispute, "there is a horizon of possibility for Argentina to have a dialogue" on the issue.
Malcorra made the comment when asked about statements from UK Defense minister Michael Fallon during his visit to the Falkland Islands, and his strong questioning of Labor leader Jeremy Corbyn's position, who has proposed negotiations with Argentina over Falklands' sovereignty.
"Here we are observing an internal matter of the UK. There are different perspectives, it's the internal dynamics of the UK of which I prefer not to make comments. But it is showing us there are different opinions, different positions and that gives us a horizon of possibility to have a dialogue", on Malvinas, pointed out the Argentine minister.
Further on she said that "the maximum expectation belongs to that established by the national constitution, there's no debate on that, but there are possibilities of talking about these issues, and see with time, how we can handle these things".
"It's obvious that if we want to find options, we must be flexible", underlined Malcorra.
This week Defense minister Fallon from Stanley said that the greater threat to the Islands was not Argentina, "but Labor leader Jeremy Corbyn", who has been strongly criticized in the UK for proposing a dialogue over the Falklands' sovereignty with Argentina.
Malcorra also mentioned that at the Davos meeting between president Mauricio Macri and UK PM David Cameron, "clearly both leaders agreed to work on those issues of common interest, which are many".
"There's an enormous potential with the UK, and both leaders were explicit as to the issue over which there is a great difference, but the common agenda will include all those issues of common interest in such a way that nothing blocks our capacity of having a fluid dialogue".
Finally Macorra was asked about a recent column from former foreign minister Dante Caputo, 'Malvinas, a dream that can be rescued', which she described as 'creative' and evidence that "other options are possible" to address the issue without the need of confrontation.
Caputo basically said that the Falklands/Malvinas claim should be left aside for 17 years, until (symbolic) 2033, when Argentina can give evidence that it is serious, united, reliable and developed country.