Fallon's Falklands visit caused 'concern' and displeasure
Saturday, February 20th 2016 - 07:27 UTC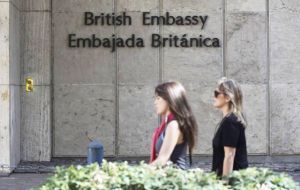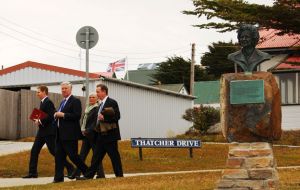 The Argentine government expressed its 'concern' to the UK over Defense minister Michael Fallon's visit to the Falkland Islands where he spent time with the military at MPA and met with Falklands elected government authorities and members of the community, according to media reports in Buenos Aires.
Reports indicate that the Foreign ministry made a formal presentation on the issue to the British embassy in Buenos Aires, because of Defense minister Fallon's presence in the 'Malvinas Islands' since this was interpreted as an intromission of London in 'Argentine territory'.
To this must be added that Fallon's visit to the Falklands takes place just a couple of weeks after the meeting of Argentine president Mauricio Macri with British PM David Cameron on the sidelines of the Davos economic forum, when both leaders agreed to 'de-freeze' the situation and 'normalize' relations.
Apparently the British embassy in Buenos Aires said it would be making no comments of the matter.
Even when minister Fallon said from the Falklands that London is intent in improving relations with Argentina, and suggested Argentines should visit the Islands and see for themselves the truth about the dynamic Falklands, his conclusive remarks on sovereignty, "the issue was settled more than thirty years ago", and confirmed by the recent 2013 crystal clear referendum results, took Argentine authorities by surprise and did not please at all.
Allegedly a close advisor of President Macri said that Fallon's presence in the Islands 'served no purpose' with the current attempt of normalizing relations with London and 'establishing a bridge with the Islanders'.
According to the Argentine media reports, during the Macri/Cameron meeting in Davos it was agreed to reestablish bilateral relations, following years of confrontation under the previous government of Cristina Fernandez. "In fact, both leaders agreed to put the Malvinas dispute under an umbrella" but the presence of the British defense minister in the Islands does not help.
However the Argentine government also believes that Fallon's statements were a strong message to the domestic dispute between conservatives and Labor. In effect, the minister was quoted from the Falklands saying that Labor Leader, Jeremy Corbyn was "a bigger threat to the Falklands than Argentina", with his inability to accept the Islanders right to self determination. Likewise, "I can't believe Jeremy Corbyn wants to override the wishes of the Islanders - it's an extraordinary position to get into. We've always made it clear the sovereignty issue is settled and Islanders made their views crystal clear in the 2013 referendum".
Corbyn in recent statements to the BBC, not only proposed establishing a dialogue between the Islanders and Argentina, but also a "joint administration' in the Falklands shared by Buenos Aires and London.