Argentine government optimistic Congress will lift 'paddock bill' as requested by Judge Griesa
Monday, February 22nd 2016 - 09:03 UTC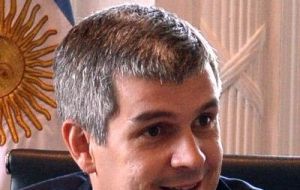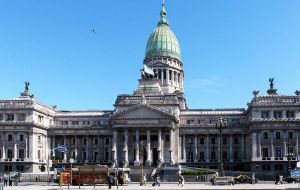 The administration of president Mauricio Macri is optimistic that Congress will lift the Padlock Law (Ley Cerrojo) clearing the way for Argentina's long-standing dispute against so called speculative funds to be settled, Cabinet Chief Marcos Peña said.
"We are optimistic that Congress will revoke the Padlock Law" Peña said on Sunday adding Argentina's representatives will be resuming negotiations in the "upcoming days," now with a signal of apparent support from US Judge Thomas Griesa who on Friday said he would vacate the injunctions against the country only if Congress lifts the Padlock Law (Ley Cerrojo) and the Sovereign Payment Law.
"We will initiate negotiations in the upcoming days but it is something we have been discussing for a while," the head of ministers affirmed in statements to a local radio station, considering Griesa's message "a good step to unlock the situation."
"We have to take the drama out, this is not a heroic deed but something we have to resolve. And in Congress there is understanding that it has to be resolved, so in the upcoming days we will initiate negotiations, but we have been discussing it for a while."
Although Macri has insufficient representation in both houses of the Argentine congress, so far it has managed to work out understandings on several issues, which were finally approved, for example naming members to the Supreme Court, the full list of ambassadors proposed and economic initiatives. Likewise there is a growing consensus about negotiations with the speculative funds because of some of the positive results so far and a clearly new attitude from US federal justice following the willingness to reach an agreement and close the over a decade long litigation.