Unemployment in Brazil reaches 9% in Sept-Nov rolling quarter
Monday, February 22nd 2016 - 08:43 UTC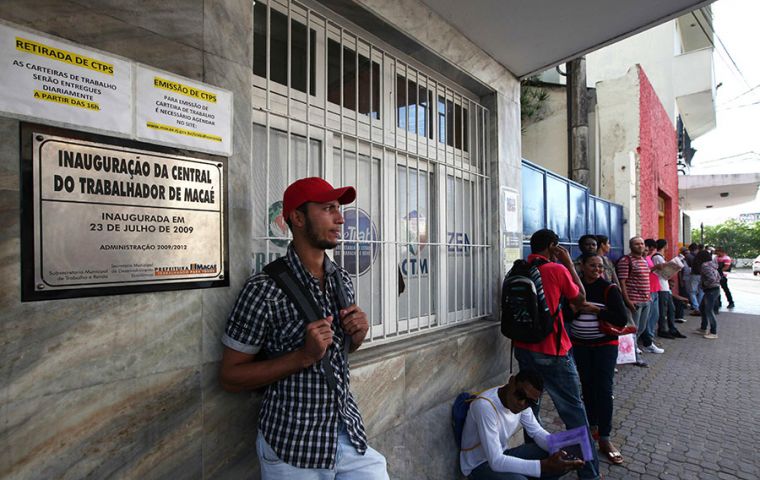 Unemployment in Brazil was 9% during the September-November rolling quarter, unchanged from the August-October period, the Brazilian Institute for Geography and Statistics reported.
The rate, which translates to roughly 9.1 million people out of work, is based on data from the National Sample of Households Study, known as PNAD, a new, more rigorous measure of joblessness built on recommendations from the International Labor Organization.
The level of unemployment in September-November 2014 was 6.5%.
Brazil's economic activity shrank by 4.08% in 2015, compared with analysts' forecasts for a 3.70%, the Central Bank reported.
That figure comes from the Central Bank's Index of Economic Activity, or IBC-Br, which is used as a preview of the gross domestic product number.
The official GDP result will be released on March 3. If it matches the IBC-BR reading, it would mark the sharpest contraction since 1990, when the economy shrank 4.35%. Analysts are forecasting a 3.33% GDP drop for 2016, which would mean the first back-to-back annual declines since the series began in 1948.
In addition Brazil is struggling with inflation of more than 10% and a large budget deficit that prompted the government to pursue an austerity plan to try to get its fiscal house in order. The country also is facing a political crisis that could lead to President Dilma Rousseff's impeachment.
That combination of factors led Standard & Poor's, which had already lowered Brazil's long-term debt to junk territory in September, to downgrade it once again on Wednesday from BB+ to BB.
Fitch Ratings also lowered Brazil's credit rating to junk in December.
Those downgrades have occurred even though analysts note that Brazil's foreign currency reserves are far in excess of its international liabilities.