Argentina celebrates 112th anniversary of flag flying and presence in Antarctica
Tuesday, February 23rd 2016 - 06:43 UTC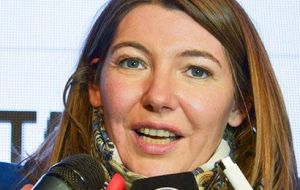 Argentina Antarctica Day was celebrated on Monday 22 February, recalling the 112th anniversary of the first time the country's flag was flown at the Meteorological and Magnetic Observatory in the Laure Island, South Orkneys in 1904.
According to a release from the Foreign Ministry, since 1904 Argentina has had a standing and uninterrupted presence in Antarctica and in 1959 was one of the original signatories of the Antarctic Treaty as has since become one of the main actors in the Antarctic Treaty System for over half a century.
The ministry then underlines that after twenty years Argentina has again been involved in the inspection of foreign bases in Antarctica in the framework of the Treaty and its Environment Protection Protocol.
"Signaling a new chapter of bilateral cooperation, between February 15 and 18, a committee of Argentine-Chilean inspectors for the first time made joint inspections of Antarctica bases and stations from six countries that are Consulting parties of the Treaty"
"Inspections are a mutual confidence consolidation mechanism among parties through the control of compliance with international norms and a special emphasis in the protection of the Antarctic environment".
The resulting inspection reports will be presented at the 39th Consulting Meeting of the Antarctic Treaty which is scheduled to take place next May in Santiago de Chile, concludes the ministry's report.
Meanwhile in Ushuaia, a major commemoration took place headed by Tierra del Fuego governor, Rosana Bertone. The ceremony was attended by lawmakers, provincial officials and members of the cabinet, councilors, representatives from security forces, Malvinas veterans and public in general.
"Here we are in the capital of Antarctica to express the strong decision from Tierra del Fuego's people in ratifying our unrenounceable sovereignty rights over Argentine Antarctica", said governor Bertone .
The governor added that the new provincial government has given a new emphasis to Antarctica by creating the Secretariat for Affairs relative to Antarctica, Malvinas and South Atlantic Islands and its surrounding maritime spaces. This will be supported by the inclusion in schools curricula of issues referred to Antarctica, Malvinas and the South Atlantic.
Finally provincial authorities and lawmakers participated in the unveiling of a bust, in the Antarctica Pioneers plaza, dedicated to Hugo Acuña, the first Argentine to fly the country's flag in Antarctica in 1904.