Helicopters for Falklands transported by largest cargo aircraft: Antonov AN-124
Tuesday, February 23rd 2016 - 07:24 UTC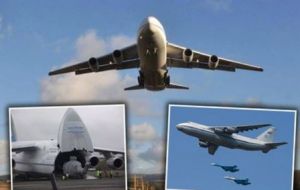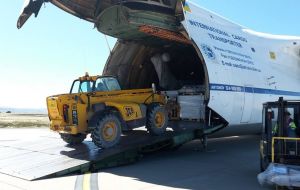 The pictures show a giant Russian-made transport plane landed at Newquay Airport in Cornwall before it headed out across the Atlantic to the Falkland Islands. The enormous Antonov AN-124 was in Cornwall to pick up two search and rescue helicopters, before heading out on the rest of its journey.
Photographer Pete Hunkin was on hand to capture these stunning shots as it sat on the runway in Newquay after it had flown in from Montreal.
The plane is officially the second largest ever built. It's colossal nosecone lifts up, allowing large items - like helicopters - to be loaded on-board.
Seen alongside the helicopters, the huge plane dwarfed other aircraft at the airport.
On its way the Falklands, the An-124 was due to stop off at the tiny island of Ascension in the middle of the Atlantic.
Pete said: "Loads of people said they'd seen it over Cornwall, and it's no surprise considering the size of the thing!" He added "I was one of the very few lucky enough to get directly beneath and photograph the aircraft," Pete said.
After loading and refueling, the plane took off, thundering into thick cloud.
Pete said: "I doubt we will see something that size again here in Cornwall, and hope the helicopters serve the people of the Falklands admirably!"
The Antonov An-124 is still the largest military transport in the world, and is used by the Russian Air Force.
The unload operation was managed bySulivan Shipping Service Ltd. at MPA airport.