Petrobras criminal investigation beiseging ex president Lula da Silva
Wednesday, February 24th 2016 - 06:16 UTC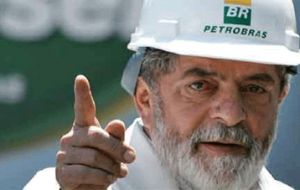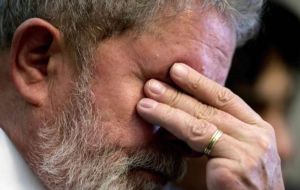 Brazil's former president Lula da Silva may have known about or been involved in "criminal practices" including corruption and bribery, Federal Police said, as the widening Petrobras corruption investigation crept closer to the popular leader.

As the high-profile "Operation Carwash" (Lava Jato) corruption probe entered a new stage, with the arrest of the political marketing expert who masterminded election wins for the Workers' Party (PT), Lula and his successor Dilma Rousseff, Federal Police are now looking into whether the former president should face an investigation into alleged wrongdoing.

In recent weeks, Lula has become the focus of police probes, which have already led to a sentencing of the PT's former treasurer and the temporarily imprisonment of the government's former leader in the Senate.

According to police documents, seen by local daily O Estado de São Paulo and reproduced on the newspaper's website, police have reason to believe that Lula was involved in "criminal practices" relating to corruption, money-laundering and kickbacks at the state oil company.

According to the newspaper, Police Commissioner Filipe Hille, who analyzed recovered documents, writes that he suspects the Odebrecht construction company, one of the firms involved in the corruption, may have "financed the construction" of the headquarters of the Lula Institute, a non-governmental organization led by the former president.

In the document, the official cites a note from Marcelo Odebrecht, the company's former president who is currently detained and facing graft charges. Hille reports that there is an amount of 12 billion Reais on the document, referring to "Premises (IL)," which police believe "possibly" refers to the Lula Institute's headquarters in São Paulo.

"If the Premises (IL) relates to the Lula Institute, the most likely conclusion is that the Odebrecht Group financed the construction of the headquarters of that entity and other properties belonging to Lula da Silva," the document concludes, according to the newspaper.

The document stresses however that the "possible involvement of former president in corrupt practices should be treated with parsimony," warning against a rush to judgment.

This "does not mean that law enforcement authorities fail to exercise their constitutional role," Hille writes.

Lula is already in the scope of investigators who are looking into whether he owned or part-owned an apartment in the Solaris building in Guarujá in São Paulo state, which prosecutors believe was used to pass kickbacks to politicians and businessmen.

The Lula Institute and the former president have both repeatedly denied any wrongdoing and say the charges leveled at them are false. Last month, the PT issued a series of videos online in support of Lula and Rousseff has backed her predecessor and mentor vociferously.