Project to identify Argentina soldiers' remains in Falklands, advancing says Clarin
Wednesday, February 24th 2016 - 06:40 UTC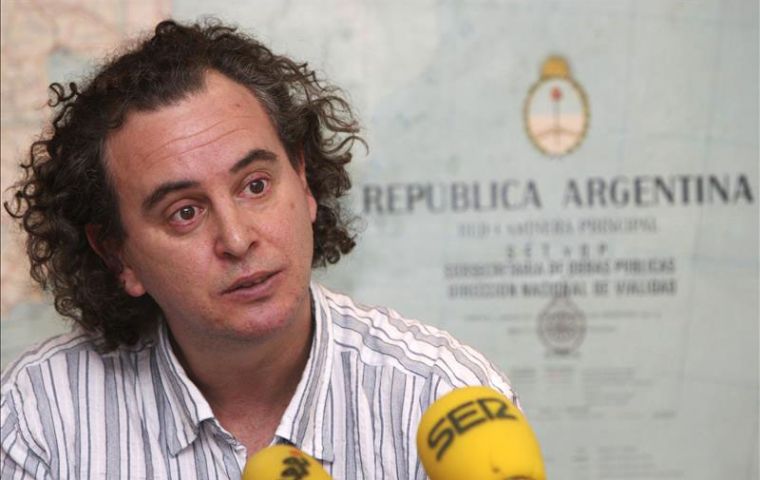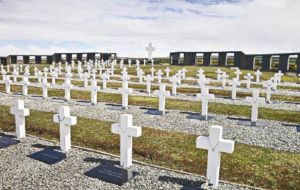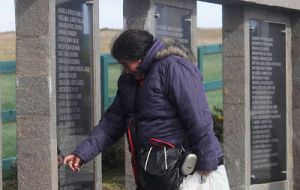 Argentina and Great Britain are close to reaching an agreement on procedures for the identification of the Argentine combatants buried at the memorial in the Falkland Islands, reports Clarin, Apparently discussions are quite advanced and an Argentine proposal was replied by a Foreign Office counter proposal.
The Argentine group of coroners that will be involved in the "Malvinas Project" as it has been identified, belongs to the Forensic Anthropology Team, EAAF, and have a long record on the issue, having helped identify the remains of many Argentine disappeared, as well in the rest of Latin America including those of Ernesto Che Guevara, the guerrilla leader who was captured alive and later shot by Bolivian forces.
"The project was born with the request to the International Red Cross by former president Cristina Fernandez. For the last two years we have been working on the project with the Ministry of Justice and we already have interviewed 81 families who have never been able to identify the remains of their sons. We have also worked on an identification protocol which not only includes genetic data", said Luis Fondebrider, head of EAAF.
All sides involved in the issue, Argentines, British and Falkland Islanders agree it's a humanitarian issue but also coincide that the operation must not turn into a media circus. At the Argentine Memorial in Darwin the remains are buried with a grave stone reading "Argentine solider known only to God".
However the issue has not been without controversy, the Commission of Malvinas fallen next of kin was divided on the issue and not pleased it had not been consulted originally, while the International Red Cross was waiting for a families consensus to go ahead with its mediation.
Fondebrider said that the EAAF team working with the Ministry of Justice and Human Rights and Social Development have taken blood samples from relatives of Malvinas combatants that never returned to create the "Blood bank of relatives of Argentine combatants fallen in the South Atlantic conflict buried without identification"
"We now have the consensus from the families and we are waiting for the diplomatic discussions. It's a totally humanitarian project and has been done in other parts of the world", said Fondebrider.
Finally the EAAF leader pointed out that the group was technically prepared for the mission, "advancing is now in the hands of diplomacy and the Red Cross. The sooner the better, time ticks against relatives".