Macri in an hour long speech blasts his predecessor and in the other half tries to inject optimism
Wednesday, March 2nd 2016 - 07:15 UTC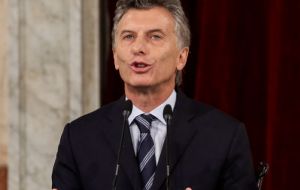 In a one hour speech before the Argentine congress, president Mauricio Macri spent half the time describing the country he received and in the other half made some announcements, but above all tried to transmit optimism, willingness to overcome, and insisted in the three pillars of his electoral pledge, eliminating poverty, combating drug-trafficking and unity among all Argentines.
"This is my first Congress inauguration and I am glad to do it in a context of optimism," Macri said on Tuesday as he inaugurated the Congress ordinary sessions for the first time as president of Argentina.
In a speech that lasted exactly an hour, Macri renewed his campaign slogans and new government plans to reduce poverty, fight against drug-trafficking and bring Argentines together.
The first part of his message was focused on the problems the president said his administration inherited from the previous administration.
"The first thing we have to do is to recognize we are not ok. It is the starting point," he said. "We come from years in which the State has systematically lied (…), credibility and confidence have been destroyed, documents are missing, it is hard to find a piece of paper," he stressed.
According to Macri, "the lack of planning and responsible thinking, corruption and carelessness" led to a State without "efficiency."
"We got used to living this way, we thought it was normal. It is not, it cannot be."
"We cannot tolerate a country like ours having children that starve to death." he affirmed and then listed some figures based on a report by the Social Observatory of the Argentine Catholic University (UCA): 29% of poverty, 6% of indigence, 42% of the population without sewers, 13% without access to drinkable water and more than 40% without connection to the gas network.
Macri said the so called policy of "social inclusion and growth" by the previous (Kirchnerite) administration "took us to poverty and exclusion," and then pointed the attention on inflation, saying it was caused by "irresponsible money printing policy."
The State, over the past five years, "was an obstacle," Macri said.
Saying his administration has already began to normalize relations with countries such as the United States, France, Italy and Israel, the head of state also referred to his recent meeting in Davos with British Prime Minister David Cameron.
"Those who live in this country have many wounds to heal. It is not with vengeance but by strengthening our fraternity that we move on," he said and referred to the death of AMIA special prosecutor Alberto Nisman, ratifying his administration's support to the declaration of unconstitutionality of the Memorandum of Understanding signed during the Cristina Fernández administration with Iran to jointly probe the 1994 bombing of the AMIA Jewish community center.
By the end of his speech, Mauricio Macri announced he will be submitting a bill to Congress setting the refund of the IVA tax (21%) for all products of the basic basket and vowed to end his term in office with "all children receiving universal childhood income," a project by Let's Change lawmaker Elisa Carrió.
Recalling his training as engineer Macri said "I would like to say I will build an immense bridge that takes us from the sadness of the past to the joy of the future, but we have to build it together. I am here in good faith, with the best of intentions, without seeking to be right, to propose you a way to growth."