Brazil political system in shock: police question Lula da Silva for three hours and raid his properties
Friday, March 4th 2016 - 21:10 UTC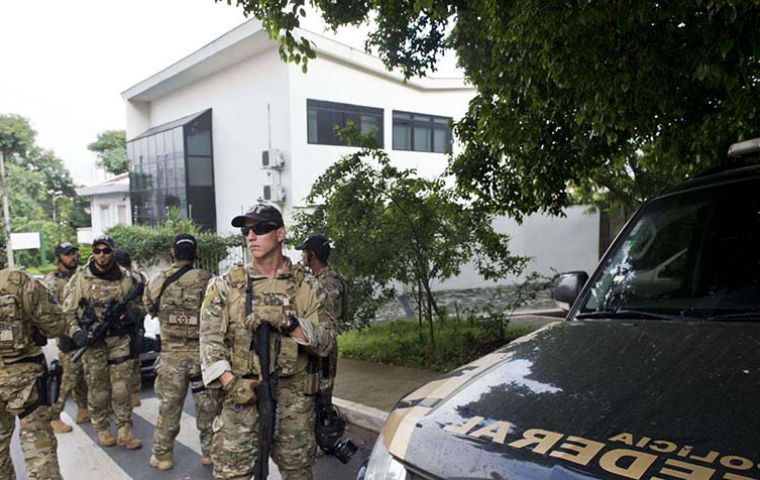 Brazilian police on Friday questioned former President Lula da Silva for over three hours and searched his home and other properties linked to him and his family, one of the most dramatic developments yet in the sprawling corruption case at the oil giant Petrobras.
According to local media, officers from the Federal Police swarmed his residence in Sao Paulo, about 200 officers and 30 tax auditors were involved in the operation as part of a broader inquiry into corruption and money laundering tied to oil company.
Lula's spokesman, Jose Chrispiniano, confirmed that police were at addresses belonging to Lula, including his residence in Sao Bernardo do Campo in the greater Sao Paulo area and the Instituto Lula, his non-profit organization. Chrispiniano said Lula was questioned by investigators at the federal police station at Sao Paulo's Congonhas airport.
He said police were acting on a warrant that requires Lula to answer questions as part of the continuing probe into billions of dollars worth of alleged corruption involving Brazil's Petrobras oil giant.
Brazil's O Globo news network ran images of police officers around the building in Sao Bernardo do Campo, and the broadcaster said police were also at an address connected to one of his sons. Globo showed clashes breaking out between Lula's supporters and detractors outside the Sao Bernardo do Campo apartment.
Lula, a plainspoken former union leader, was among the most revered leaders in recent Brazilian history when he left office in 2010, leaving the post in the hands of his chosen successor, Dilma Rousseff.
Lula's Workers' Party reacted angrily, saying in a Twitter post, "we all must react now," with a hashtag reading "LulaPoliticalPrisoner."
The summons of Lula also brings the sprawling probe closer to Rousseff, though the once-close allies have visibly distanced themselves in recent months.
While Rousseff herself has not been accused of wrongdoing in the Petrobras probe, she is facing impeachment proceedings in Congress for her government's alleged use of the country's pension fund to shore up budget gaps. Rousseff denies the allegations.
In a statement on their website, the police said they are carrying out 44 judicial orders as part of the broader Petrobras probe, known as "Car Wash."
The statement did not provide the names of those targeted, but it did specify that some of the orders were being enforced place in the beachfront city of Guaruja, as well as the rural town of Atibaia.
Police added "There is evidence that the crimes enriched him and financed electoral campaigns and the treasury of his political group."
Lula is suspected of having homes in both places, and investigators are probing reports they may have been remodeled by construction companies caught up in the Petrobras scandal, which has already ensnared top businessmen and heavyweight politicians from the governing Workers' Party as well as the opposition.
Last week, Lula and his wife, Marisa, were initially meant to appear before state investigators over the matter, but their lawyers said the two would not come and the appearance was cancelled.
On Thursday, the Supreme Court allowed corruption charges in the case to be brought against Eduardo Cunha, a top opposition figure and speaker of the lower house of Congress. Earlier in the week the Justice minister resigned. He was accused by a party convention of "allowing the federal police to harass and go after PT members", some of which have been imprisones.
Prosecutors say more than $2 billion was paid in bribes by businessmen to obtain Petrobras contracts. Investigators also have said that some of the money made its way to several political parties, including the Workers' Party.
Lula last week denounced suggestions of personal corruption, accusing the media and opposition of spreading "lies, leaks and accusations of criminality."
Lula's institute denounced the police operation against him, calling it an "aggression against the rule of law," as well as "arbitrary, illegal and unjustifiable."
But one of the prosecutors in the Petrobras probe, Carlos Fernando dos Santos Lima, said the evidence against Lula was "quite significant."
"We have speeches (by Lula) abroad (financed by companies implicated in the Petrobras scheme), evidence of projects abroad in which there may have been influence peddling, all under investigation," he said.
Lula's institute received nearly 20 million reais (some $5 million) in donations from the five companies most closely tied to the bribes-for-inflated contracts scheme centered on Petrobras, Dos Santos Lima said.
The ex-president also received nearly 10 million reais (some $2.5 million) from those same five companies as payment for speeches he gave in Brazil and abroad.
Lula, meanwhile, has vehemently denied any wrongdoing and said in testimony to prosecutors last year that it was normal for ex-presidents to promote Brazil and its companies abroad.
Lula was detained for questioning a day after Brazil's Supreme Court voted unanimously to allow prosecution of lower house speaker Eduardo Cunha for his alleged involvement in the Petrobras scandal.