French president wants UK in the EU and warns of the consequences of leaving
Friday, March 4th 2016 - 06:49 UTC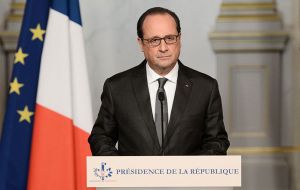 French President Francois Hollande has said he wants the UK to stay in the EU - and warned of the "consequences" for immigration and the economy of leaving. A French government minister earlier suggested his country could end UK border controls in Calais.
Asked whether he would do this, Mr. Hollande said: "I don't want to scare you, I just want to say the truth - there will be consequences." Leave campaigners have dismissed the Calais claims as "scaremongering".
Speaking to reporters at a summit in Northern France, Hollande said: "There will be consequences if the UK is to leave the EU, there will be consequences in many areas, in the single market, in the financial trade, in development, in the economic development between our two countries.
It doesn't mean that everything will be destroyed, I don't want to give you catastrophic scenarios, but there will be consequences."
He said the change would not put the historic relationship between the UK and France in question - but it would have an impact on "the way we handle the situation in terms of immigration".
Hollande also said unaccompanied children in the Calais refugee camp known as the "Jungle" who have relatives in Britain should be "quickly" reunited with them.
"When these youngsters have a family tie in the United Kingdom, they should go to the United Kingdom quickly and efficiently," said the French president.
Prime Minister David Cameron agreed that the system had to work "better, more speedily".
Cameron announced £17m to help the French authorities deal with the migrants attempting to get into the UK from Calais and Dunkirk. It will be used for security, shelter for migrants and help with returns. He also announced a £1.5bn investment in a new phase of building advanced Anglo-French drones.