South Africa's Comair ready to operate from St Helena's airport with a Boeing 737/800
Tuesday, March 8th 2016 - 07:58 UTC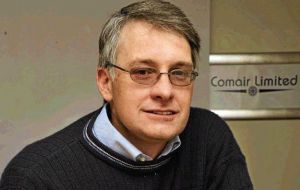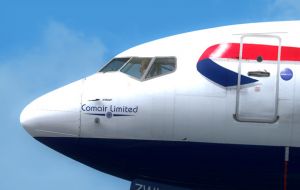 South African airline Comair will operate the Boeing 737-800, configured to seat about 120 passengers, on the route from the St Helena Island's airport to Johannesburg. A British Overseas Territory, St Helena is a remote South Atlantic island, where French emperor Napoleon Bonaparte was once exiled and died after his defeat at Waterloo.
Comair chief executive Erik Venter said: "The arrival of our newest addition is part of our ongoing fleet upgrade strategy and an important step towards operating the most modern and efficient fleet within southern Africa.
"We are very excited that this aircraft will be operating our St Helena air service."
Although the flights from Johannesburg to St Helena were originally "earmarked for late February 2016", Comair CEO Erik Venter said that Comair was still awaiting final certification of the island's new airport, which had been built by South African contractor Basil Read and would be operated in partnership with South Africa's Lanseria Airport.
Venter said he was optimistic that the inaugural flight should take place by May this year. Nonetheless, Comair announced flight times to the island.
They will be offering weekly flights to St Helena, every Saturday, on a Boeing 737-800 aircraft in British Airways livery. The flights will offer both business class and economy seating on the five-hour flight.
One flight a week will depart from Johannesburg every Saturday morning at 08:20 (local South African time) and will arrive at St Helena Airport at approximately 11:30 (local time in St Helena).
The return flight will depart from St Helena at 12:30 (local time in St Helena) and will arrive at OR Tambo International Airport at approximately 18:30 (local South African time).
The aircraft will be capable of carrying up to 120 passengers and a limited amount of cargo. Increased frequency "will be considered if there is sufficient demand," Comair says. Prices for tickets to the remote island is yet to be announced. No visa is required to visit the island, but visitors are urged so check out the St Helena Government website for more details.
On 9th October 2015, following a long campaign by Saints in the Falklands and on Ascension, the St Helena Government announced that Comair would also operate flights to and from Ascension Island, initially on a four-weekly basis but subject to review.
Before 15 September 2015, no aircraft had ever landed on the remote St Helena. The landing of a Beechcraft King Air 200 aircraft on the island last year signaled the end of an era, as it was previously only accessible by through a five-day ship journey, made by the Royal Mail Ship which sails along the western coast of Africa to St Helena.
In 2016, the RMS St Helena will make her final voyage to the island.
The ship invited passengers on the final voyage saying, "We will be bidding a very fond farewell to the magical RMS St Helena in 2016 as the new airport on St Helena opens its runways."
Passengers who would like to go on this journey can do so on Voyage 242, from 7 May 2016 to 5 June 2016 or Voyage 243, from 14 June 2016 to 15 July 2016.