Falklands celebrates "Tussac Tuesday", one of the most valuable native plants
Wednesday, March 9th 2016 - 06:47 UTC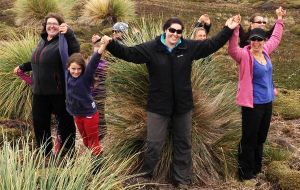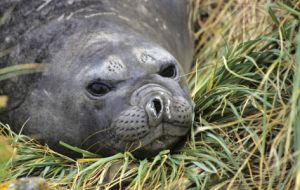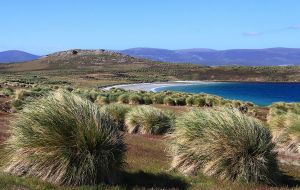 In rare coincidence with the International Women´s Day, the Falkland Islands celebrated "Tussac Tuesday'', the Poa flabellata grass, one of the most valuable native plants to farmers and wildlife in the Islands. It is palatable all year round and can provide good supplementary forage for cattle, horses and sheep.
Of the 65 bird species breeding in the Falkland Islands, 46 feed or nest in tussac. Seals shelter and breed in tussac grass, while it also provides a home for many invertebrates. For these reasons, farmers and conservationists alike share an interest in the establishment, management and long-term protection of tussac grass.
Tussac restoration projects are beneficial to the Islands and especially on the mainland, where due to historical land use practices, tussac has been severely depleted. Mainland tussac is listed as a threatened habitat and identified as a priority for protection in the FIG Biodiversity Strategy 2008 – 2018.
Tussac planting schemes have become popular in recent years, bringing together keen volunteers, families and landowners making planting days a sociable occasion. Winter is the best time to plant as the ground is wetter, allowing tillers to establish roots and survive through the drier summer.
Tussac restoration areas can be seen around Stanley, including FC's junior Watch Group's tussac project by Gilbert House on the harbour front. More recently tussac has been planted up on the cleared mine field site west of Surf Bay.
It is envisaged that tussac will play an important role in habitat restoration of cleared minefields in coastal areas that might otherwise be susceptible to erosion. The current trials led by Falklands Conservation at Surf Bay will facilitate development of best practise guidelines for restoration work following future demining programs in the Falklands. In five years time, community members and tourists alike will be able to enjoy flourishing mainland tussac habitat and its associated wildlife just a stone's throw from Stanley. (With Falklands' Conservation material).