Sambo fish to combat mosquitoes in the upcoming Olympic Games in Rio
Wednesday, March 9th 2016 - 05:08 UTC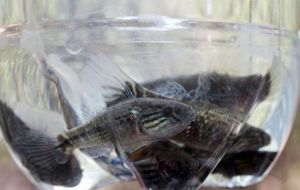 Governments have been using various tools to fight the spread of the Zika virus in Latin America: fumigation, spraying of insecticides and even a plan to distribute mosquito repellents to athletes during the upcoming Summer Olympic Games in Rio de Janeiro, Brazil.
However some Christian aid workers are exploring an all-natural way to prevent this public health emergency from further escalating, and they are using something fishy, literally.
Aid workers from the non-profit humanitarian organization Operation Blessing, which is affiliated with the Christian Broadcasting Network, are distributing the indigenous Sambo fish to residents in Latin America at risk of the Zika virus infection.
This fish, native to El Salvador, is known for feeding on mosquitoes—the same insects that transmit the virus said to be causing physical deformities to babies.
Operation Blessing International President Bill Horan was the one who came up with this unique solution to the Zika virus threat. The same fish was also used to fight mosquito-related diseases in the aftermath of Hurricane Katrina, which devastated New Orleans.