United States joins worldwide effort against illegal fishing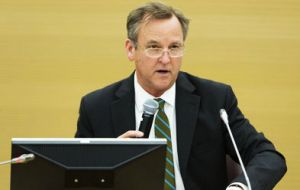 The United States has brought added momentum to global efforts targeting illegal fishing by adhering to a FAO-brokered international pact.US Ambassador to the United Nations agencies in Rome, David Lane, this week formally presented FAO Director-General José Graziano da Silva with the US' instrument of ratification of the Agreement on Port State Measures to Prevent, Deter and Eliminate Illegal, Unreported and Unregulated Fishing.
"FAO is a strong partner in the promotion of sustainable fisheries, and we look forward to continuing to collaborate with you and the entire global community in the fight against illegal fishing," Ambassador Lane pointed out.
For his part, the FAO Director-General said he wished to "thank the US for its partnership on such an important issue".
"Combating illegal fishing is a crucial goal not only for small island developing states, but also for major countries like the US," Graziano da Silva added.
The Agreement comes into force when 25 countries or regional economic blocs have deposited their instrument of adherence with the FAO Director-General.
To date 22 instruments of adherence have been deposited by 21 countries, and the European Union on behalf of its members. Among the latest are Barbados, Republic of Korea and South Africa.
Graziano da Silva told Ambassador Lane that several other countries have expressed a willingness to become party to the Agreement and that the target of 25 could be reached by July this year.
Port State measures set standards for inspection of foreign vessels that seek to enter the port of another State. Importantly, the measures allow a country to block ships it suspects of having engaged in illicit fishing and thereby prevent illegal catches from entering local and international markets.
To assist countries in building their capacity to implement the Agreement, FAO has convened a series of regional workshops around the world, with participation from over 100 countries. (FIS).