Purge in YPF; financial expert chosen as successor of Galuccio
Friday, March 11th 2016 - 05:22 UTC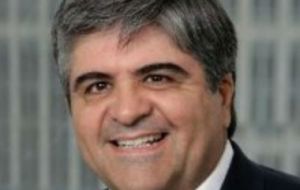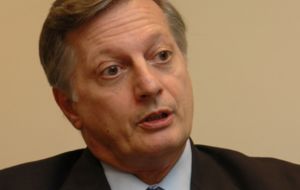 Miguel Ángel Gutiérrez looks is to become the new president of Argentina's state-controlled energy giant YPF, it was revealed this week after Miguel Galuccio confirmed he will step down as head of the company on April 30.
Gutiérrez, who formerly headed telecommunications giant Telefónica and has 25 years experience in global financial circles, will be proposed as the Let's Change administration's pick at a key shareholders meeting next month, the Energy Ministry led by Juan José Aranguren announced.
The news came after Galuccio resigned at the request of the government, as President Mauricio Macri's administration continues to remove officials appointed under the previous administration led by President Cristina Fernández.
Gutiérrez has been working at YPF since the directors appointed by the state resigned in December after Macri took over. He was named along with former Energy ministers Emilio Apud and Daniel Montamat, as well as former Telecom CEO Carlos Felices and lawyer Fabián Rodríguez Simón, and gained influence since then.
The news could mean a new approach for the company, which will also see its top positions split: president and CEO.
The Energy Ministry said it would now open a global search for the CEO position, and that the new corporate structure was in line with the recommendations of the Organization for Economic Cooperation and Development (OECD).
While Galuccio's background is in the oil industry, with specific focus on shale energy, which YPF wants to exploit through its huge but untapped Vaca Muerta deposits, Gutiérrez has a long career in the financial sector, working at JP Morgan and as one of Rohatyn Group's partners.
Galuccio was appointed in 2012 by then-president Cristina Fernández after her government seized control of the company from Spanish oil giant Repsol. State news agency Télam said Galuccio was asked to step down "due to a restructuring" at the company.
He was reportedly not favored by Aranguren, who thought Galuccio had exceeded his authority by issuing dollar-denominated bonds last year to indirectly help finance the country's Central Bank as it struggled with dwindling foreign currency reserves.
Aranguren is the former head of Shell Argentina, a direct competitor of YPF, and was also one of the harshest critics of Cristina Fernández administration in the business sector. Other reports said Galuccio was at odds with Bridas' Carlos Bulgheroni, a partner of Pan American Energy (PAE) in Argentina.
Despite also enjoying a good relationship with Macri, who had praised Galuccio's job as a professional in the past, Galuccio said in a statement that the "time has come to allow others to continue the path that the company is on."