Rousseff rejects calls for her resignation and confirms Finance minister Barbosa
Friday, March 11th 2016 - 20:03 UTC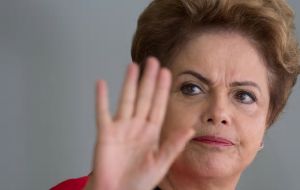 Brazil's President Dilma Rousseff rejected calls for her resignation on Friday midst a political storm deepened by a massive corruption scandal and blamed her opponents for causing a crisis that has damaged the Brazilian economy. She also confirmed her Finance minister Nelson Barbosa.
"No one has the right to ask for the resignation of a legitimately elected president," Rousseff told reporters, indicating she has no intention of quitting despite Brazil's worst economic recession in 25 years.
The populist leader, who was narrowly re-elected in 2014, blamed her opponents for causing a political crisis that she said has damaged the Brazilian economy, which shrank 3.8% last year. Rousseff said Finance Minister Nelson Barbosa's position in her cabinet was secure.
Opposition parties are seeking to unseat Rousseff by impeachment in Congress or annulment of her re-election for allegedly using illegal money from the Petrobras bribery and kickback scandal to fund her campaign.
Charges of money laundering brought against her mentor and predecessor former president Lula da Silva have deepened the crisis this week.
Rousseff said an arrest warrant requested by Sao Paulo state prosecutors for Lula on Thursday had absolutely no legal basis. She declined to confirm press reports that Lula would be offered a post in her cabinet as a way to give him some immunity from the corruption investigation, but she said she would be proud to have him in her government.
The widening corruption probe surrounding state-run oil company Petrobras has turned key lawmakers from Brazil's largest party against Rousseff, threatening to split her coalition and increasing chances of her impeachment in Congress this year.