Argentine bonds: US Appeals court puts on hold Judge Griesa's lifting of injunctions
Sunday, March 13th 2016 - 22:22 UTC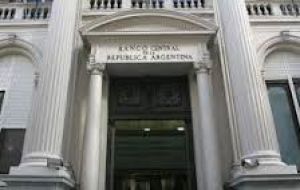 United States appeals court put on hold a United States District Judge Thomas Griesa ruling lifting injunctions that have restricted Argentina from paying off some debts in light of the country's US$6.5 billion offer to settle litigation over bonds in default since 2002.
The Second US Circuit Court of Appeals in New York confirmed the March 2 ruling by Griesa until it could hear an appeal by creditors opposed to the lifting of the injunctions. Argentina still has until April 14 to pay the US$4.65 billion deal with the largest holdouts.
According to court documents, Argentina did not oppose the creditors' request to stay the order. It had earlier secured an expedited appeal, arguing that "without prompt resolution, settlement of the largest claims in this long-running litigation may be in jeopardy."
The Second Circuit, in an order issued earlier set a briefing schedule that would run through March 25. It said the date of any arguments would be determined "at a later time."
Griesa's ruling vacating the injunctions was conditioned on Argentina repealing two laws concerning its debts — Sovereign Payment and Padlock— and paying creditors who by February 29 reached settlements with the administration of president Mauricio Macri.
Those laws prevent Argentina from offering holdouts better terms than those offered to entities who agreed to restructure defaulted debt in 2005 and 2010. The Argentine Finance and Budget committees of the Lower House have already cleared for debate government's bill to lift the two pieces of legislation.
Argentina filed the request to lift the injunctions after offering on February 5 to pay US$6.5 billion to settle lawsuits by various bondholders stemming from its record US$100 billion default in 2002. Argentina has reached agreements in principle to pay more than US$6.4 billion to creditors, including US$4.65 billion to four of the biggest creditors — which have to be paid before April 14.
The injunctions at issue prevented Argentina from servicing its restructured debt until it paid the investors, who spurned its 2005 and 2010 debt restructurings. Those restructurings resulted in 92% of its defaulted debt being swapped and investors being paid less than 30 cents on the dollar.
In 2014, Argentina refused to heed to Griesa's orders that it must pay the holdout hedge funds — led by NML and Aurelius — at the same time it paid bondholders who participated in the debt exchanges following the country's earlier default. That order came after the US Supreme Court declined to hear Argentina's appeal against Griesa's ruling and settlement talks went nowhere.
Before his ruling, creditors had asked Griesa to delay his decision to lift the injunctions against Argentina for another month, claiming more time was needed for Argentina to reach a deal with the holdouts who haven't accepted the settlement offer yet.
Nevertheless, the US Judge said "circumstances have changed so significantly as to render the injunctions inequitable and detrimental to the public interest." He claimed there was a "pressing need for certainty and finality" if the settlements are to succeed and that further delay could "seriously erode" Argentina's ability to raise capital to fund the deals.
Following his ruling, most of the holdouts appealed, including Elliott Management and Aurelius Capital, arguing that the settlements could fall apart if the remaining plaintiffs, holding 15 percent of the claims in the litigation, are not given a chance to settle too.