Cuba reiterates to Malcorra support for Argentina's Malvinas claim
Sunday, March 13th 2016 - 16:54 UTC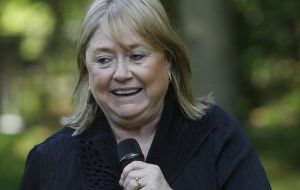 Argentina's foreign minister Susana Malcorra made a quick working visit to Cuba where she held talks with her peer Bruno Rodríguez Parrilla to address bilateral issues and also met the representatives from the Colombia-Farc peace talks which are taking place in Havana.
According to the official releases from the two foreign ministries, Cuba thanked Argentina for the ongoing historic support of the UN resolution which calls for the end of the US blockade to the island, and reiterated Havana's full solidarity with Argentina's state and people sovereignty "just' claim over the Malvinas, South Georgia and South Sandwhich islands.
Malcorra also held talks with the delegates from the Colombian government and the FARC (Colombian Revolutionary Armed Forces) looking into ways Argentina can contribute with 'productive projects' once the peace accords are signed and implemented.
With this in mind the Argentine official was accompanied by Gustavo Grobocopatel, also known as the "Soy King" for his vast interests in the oilseed industry, from crops to bean grinding plants. Grobocopatel has soy plantations in Argentina, Uruguay, Paraguay, Bolivia and some experimental acres in Colombia.
Although Argentina has not had an active role in the Colombian peace talks, such as Norway Venezuela and Chile which are observer nations and to a certain extent guarantors, the Macri administration has expressed an interest in supporting projects following the end of the half century conflict.
It was the first visit to Cuba of a top official from the current Mauricio Macri administration, following on the close links between the Castro brothers and ex president Cristina Fernandez. The visit also reflects the new Argentine government policy towards Cuba.
According to the Buenos Aires media, Malcorra left for Cuba following some significant removals and nominations in the foreign ministry, where she is determined to have people of her total confidence, and not necessarily professional diplomats.
For example the cabinet chief was replaced, she named two former managers from the telecommunications industry to the areas of International Cooperation and Administration. Likewise Malcorra named several ambassadors (Cuba, Turkey, OAS, Denmark and Switzerland), but left the Venezuelan embassy with the current Chargé d'affairs
"We believe the embassy in Venezuela is well represented and we see no need for changes" was the official line from the San Martin Palace.
Media experts in Argentine diplomacy pointed out that Malcorra has been privileging in nominations members of the Radical party (part of the ruling coalition), where her heart is and from Telefonica, the telecommunications giant with which she worked before joining the FAO and UN programs.