More than a million people fill the streets of Brazil demanding removal of Rousseff
Sunday, March 13th 2016 - 21:50 UTC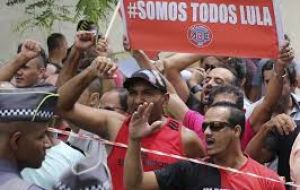 More than a million people have poured onto the streets of Brazil to demand the removal of the country's president Dilma Rousseff. The president is struggling to hold on to power in the face of a massive corruption scandal and the worst recession in decades.
The populist leader issued a plea to people via the Brazilian media on Saturday, in which she said: "I am appealing for there not to be violence. I think all people have a right to be on the streets. However, no one has a right to be violent - no one."
Protests were held in around 300 Brazilian cities with Sao Paulo gathering a million protesters. In Rio de Janeiro, which hosts the Summer Olympics in August, the crowd took over a long section of Avenida Atlantica, running along the beachfront of Copacabana.
Demonstrators marched wearing shirts with the Brazilian flag's green and yellow colours and carrying banners that said "Out Dilma". In the capital, Brasilia, protesters inflated a giant doll of Lula wearing a striped prison uniform and chained to a ball that read "Operation Carwash," the name of the investigation centered on state oil company.
Ms Rousseff faces impeachment in the country's Congress over allegations she manipulated government accounts to boost public spending during her election campaign 2014.
Prosecutors have charged her predecessor and mentor Lula da Silva, with money laundering and requested his arrest in a case linked to a massive corruption scandal at state oil company Petrobras, accusations he has denied.
Ms Rousseff says there isn't "the slightest possibility" she will resign, although polls show that more than half of Brazilians want her impeached.
The magnitude of Sunday's protests could be crucial in persuading a divided Congress to back ongoing impeachment proceedings against Rousseff.
As in previous protests, Sunday's rallies were led by middle-class Brazilians angry over growing allegations of corruption in Rousseff's administration. The poor Brazilians who form the traditional base of her ruling Workers' Party have not turned out in great numbers at the recent protests, but their support has faded as the recession has deepened and inflation has climbed.
A few hundred government supporters wearing red shirts and holding banners that read "There will not be a coup" stood outside Lula's home on the outskirts of Sao Paulo.
Brazilian shares and its currency Real have surged in recent weeks as investors bet that a change in government would lift business and consumer confidence and rescue an economy that contracted 3.8% last year.
Many blame Rousseff for sinking the economy into its worst recession in at least 25 years. Opinion polls show that more than half of Brazilians favor the impeachment of the president, who was re-elected by a slim margin for a second four-year term in 2014.
Rousseff is the latest leftist leader in Latin America to face social upheaval as a decade-long commodities boom that fuelled breakneck growth rates comes to an abrupt end.