Beijing protests sinking of Chinese jigger and calls for a formal inquest into the incident
Wednesday, March 16th 2016 - 16:43 UTC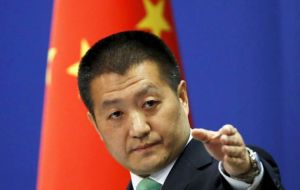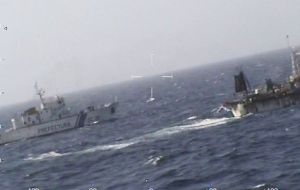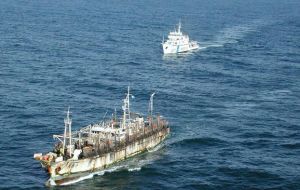 Beijing made a formal complaint to Argentina and expressed 'great concern' regarding the incident in which a Chinese flagged jigger caught red-handed fishing in the country's EEZ was fired at and sank on Tuesday. Chinese authorities also requested an "immediate inquest" into the procedure of the Argentine Coast Guard in the sinking of the vessel Lu Yuan Yu10.
A spokesperson from the Chinese foreign ministry, Lu Kang said that Beijing was following closely and with 'special attention' the matter and called for "effective measures" to avoid a repeat of a similar incident.
Likewise it called on Argentina to immediately investigate the incident to ensure the "security and legal interests" of Chinese fishing vessels and urgently open dialogue to obtain further details regarding the sinking of the jigger, which it is following closely with deep concern.
According to the Argentine Coast Guard report, the Chinese jigger was illegally fishing in the 200 miles EEZ, and following several radio calls, in English and Spanish, for it to stop, it was decided to fire warning shots across the bow, but the Lu Yuan Yu 10 tried to escape into international waters.
Furthermore in several opportunities, the jigger tried to collide with the Coast Guard patrol, "putting at risk not only its own crew but also that of the patrol, so it was then that it was decided to open fire on the vessel causing damage" which led to the slow sinking of the fugitive vessel.
However the Chinese foreign ministry alleges that the jigger was effectively operating in Argentine fisheries and was chased for several hours by the Argentine Coast Guard, and finally was fired at causing it to sink. However there is no reference to the alleged dangerous ramming maneuvers which justified opening fire on the vessel and its sinking.
The case is now before the Federal Court in Rawson, province of Chubut and was informed to Argentina's foreign ministry and the Chinese consulate. The federal court reported that four crewmembers including the captain of the jigger have been arrested after jumping over board, and been rescued by the "G28 Prefecto Debres" Coast Guard patrol.
The rest of the crew was picked up safe and sound by a second jigger which was fishing legally in international waters, according to the Argentine version.
As similar incident but with the Chinese jigger managing to escape and make it to international waters occurred in early March.
Between 1990 and 2013 Argentina has captured 19 vessels fishing illegally in South Atlantic Argentine waters, seven from Taiwan, four from China, three Korean, two Spanish, two Japanese and one from Poland.