Minister Hugo Swire: "The Commonwealth is no relic of the past"
Wednesday, March 16th 2016 - 07:04 UTC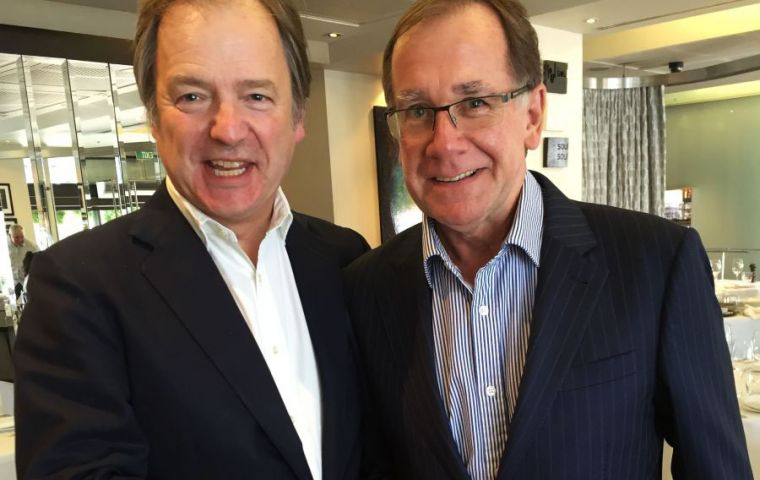 Minister of State Rt Hon Hugo Swire MP blogs on the importance of the Commonwealth following his visit to New Zealand and Canada.Sometimes the Commonwealth is seen as a relic of the past. I argue passionately that it is nothing of the sort. The test is always the same – would we invent the Commonwealth today? The answer is that we would. It is an important organisation for the present and the future.
My visit last week to New Zealand and Canada, and last month to Sri Lanka, demonstrated that fact more clearly than ever. The warm receptions I experienced were that of a good friend. Not only old friends with important shared history, but like-minded partners today and for the future.
The UK's relationship with New Zealand is full of energy. It covers trade, science & innovation, and defence. Our people share a sense of humour and passions for sport, education and business. With New Zealand now on the UN Security Council, it is a great opportunity to promote international peace and security together.
With Canada too, our relations are as strong as ever. We are ready to confront security and humanitarian challenges around the world, including terrorism, climate change and strengthening the Rules-Based International Order. As partners in the Commonwealth as well as the G7, G20 and NATO, our relationship is unique.
Our friendship with these two important partners demonstrates that Commonwealth is as important as it has ever been for the UK – a collection of more than 50 influential nations across the globe with shared values and objectives. It represents a third of the world's population, including more than a billion under 25s.
As well as values, these countries share language and systems of law and order. And that means they also do business together very well.
The Commonwealth includes include some of the world's fastest growing economies – India, South Africa, Malaysia, Nigeria and Singapore – alongside long-established powerhouses like the UK, Australia and, of course, Canada.
A huge amount of trade already goes on between Commonwealth nations – more than $592bn in 2013 – and the amount continues to grow. It is expected to reach $1tr by 2020. And it makes sense to do so: trade is estimated to be 19-20% cheaper as a result of shared legal systems and language.
In the UK, we have already started developing our approach to trade within the Commonwealth. One example is our support to the new Commonwealth Enterprise and Investment Council (CWEIC), which is helping to build business links between member governments.
The UK's commitment to the Commonwealth should never be in doubt. Relationships with our Commonwealth colleagues are essential to us and we will continue to build them and thrive as equal members of an important partnership.
That's why I am delighted that we have now been confirmed as the next hosts for the Commonwealth Heads of Government meeting (CHOGM) in 2018 – a key gathering of heads of state, where many crucial issues will be decided.
The CHOGM meeting in Malta late last year demonstrated the strength of the Commonwealth. Major agreements were made on issues from climate change to counter extremism.
It was at CHOGM that 53 nations pledged to mobilise worldwide efforts to keep the increase in global average temperatures "below 2 or 1.5 degrees Celsius above pre-industrial levels" – a move witnessed by the French President and UN Secretary General, which paved the way for the UN pledge that followed it a week later.
It was also where the Canadian Prime Minister Justin Trudeau paid tribute to HM The Queen's "constant presence in the life of Canada" since her first official duty there at the age of nine, and made headlines by making Her Majesty "feel so old".
The conference saw the announcement of:
A £5million fund for a new Commonwealth counter-extremism fund.
£5.6million to help small island developing states to preserve their marine environments and tap into maritime resources to drive sustainable economic development.
£15million to extend an international disaster risk insurance fund to the Pacific Islands, helping those countries access rapid finance in the event of natural disasters.
£5million to establish a global facility to provide technical assistance on risk management and disaster planning.
£1million to provide small island developing states with access to technical expertise to help them access development and infrastructure finance.
We want to host CHOGM 2018 because we believe the Commonwealth makes a real impact on the world stage. And the United Kingdom's long-term security and prosperity depends on a stable, rules based, international system that reflects the core values of democracy, the rule of law, open, accountable governments and institutions, human rights, freedom of speech, property rights and equality of opportunity, including the empowerment of women and girls. I look forward to celebrating Commonwealth Day on 14 March, with this year's theme of "An Inclusive Commonwealth".
We'll use Britain's world-leading soft-power to strengthen the member institutions, encouraging further participation by growing powers. The ideal of the Commonwealth, a worldwide partnership of diversity and shared values, embodying what we believe the international system should look like, can be realised. We plan to make sure that it is.