Finland's new state of the art icebreaker Polaris will also be the world's greenest
Thursday, March 17th 2016 - 07:53 UTC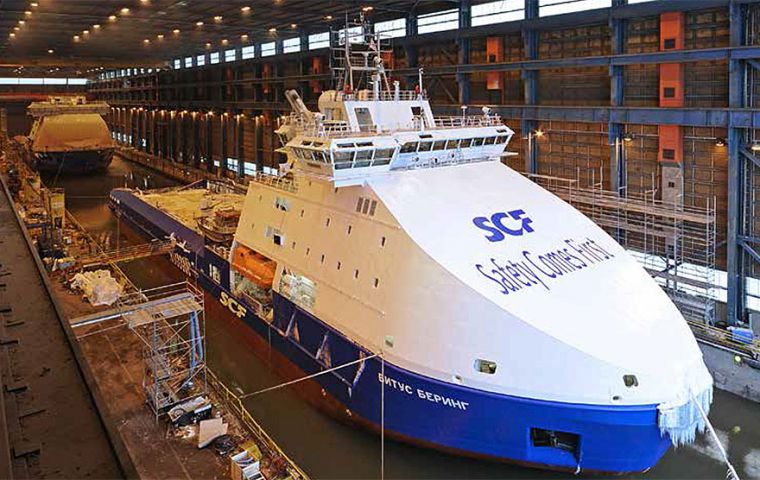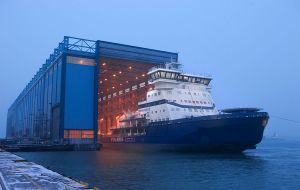 Due for delivery in the second quarter of the year, Finland's new icebreaker Polaris is the world's first to feature dual fuel liquefied natural gas (LNG) and diesel propulsion, earning the icebreaking vessel designations as the Finland's most powerful and the world's greenest.
Currently undergoing final outfitting at Arctech Helsinki Shipyard, the icebreaker is being built for the Finnish Transport Agency, who upon completion will sell Polaris to Arctia Icebreaking Oy, a subsidiary of state-owned Arctia Shipping, who manages all icebreaking operations in Finland.
A product of Finnish Arctic and maritime technological knowhow, Polaris draws upon some of the industry's top names to secure a spot among the world's most environmentally friendly and technologically advanced vessels.
Once delivered, Polaris will be able to break Baltic Sea ice under all conditions, and also features oil spill response and emergency towing capability at open sea.
The vessel's diesel-electric power plant includes two nine-cylinder Wärtsilä 9L34DF (rated 4,500 kilowatts each) and two 12-cylinder Wärtsilä 12V34DF (rated 6,000 kilowatts each) four-stroke medium speed dual fuel genets, as well as an additional eight-cylinder Wärtsilä 8L20DF auxiliary engine (rated 1,168 kilowatts). Combined power output is more than 22 megawatts.
Polaris' two vertical LNG tanks combine for a total volume of 800 cubic meters, enabling 10 days autonomy in typical winter conditions. Another 20 days autonomy is added via a combined 2,500 cubic meters capacity for fuel oil.
The icebrekaer also features a unique propulsion system: three electrically driven ice strengthened ABB Azipod units, two at the stern (6,5000 kilowatts each) and one at the bow (6,000 kilowatts), which combine for 19 megawatts, making Polaris Finland's most powerful icebreaker to date.