Strong 2016 wheat harvests seen in China and South Asia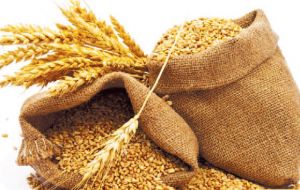 FAO's latest Cereal Supply and Demand Brief forecasts a 1.4 percent drop in worldwide wheat output in 2016, due mainly to dry weather leading to reduced winter plantings in the Russian Federation and Ukraine. However, China and Pakistan are expected to sustain near-record wheat harvests, and India's output is anticipated to recover.
FAO also trimmed its estimate of last year's total cereal production to 2 525 million tons, reflecting updated wheat production estimates from India and revised output figure from the Islamic Republic of Iran.
Estimates were also lowered for last year's world output of coarse grains and rice due to developments in Asia. Combined world cereal production in 2015 is now seen at around 1.4 percent below the record level reached in 2014.
Global cereal stocks are likely to amount to 636 million tons by the close of seasons ending in 2016, nearly unchanged from their already high opening levels, but down 6.2 million tons from the previous month's forecast. The revision mostly reflects reduced wheat inventory forecasts for the Islamic Republic of Iran and Uzbekistan, largely resulting from adjustments to historical stock numbers of both countries.
The world cereal stock-to-use ratio, a leading indicator of global world food security, still stands at a relatively high level of 24.7 percent.
FAO now expects world trade in cereals to decline by 2.0 percent in volume terms in 2015/16 from the previous season. That mostly reflects shrinking demand for wheat and barley, more than offsetting firmer demand for rice.