Lula takes to the streets claiming there's a coup, but he is no match to the over three million of Sunday
Saturday, March 19th 2016 - 06:40 UTC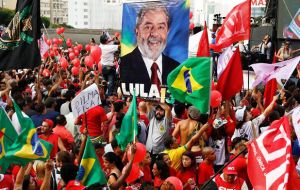 Brazilian President Dilma Rousseff's supporters took to the streets on Friday to fight back at attempts to oust her, as a flurry of court battles raged over her controversial cabinet appointment of predecessor Lula da Silva. Waving the red flags of the ruling Workers' Party, (PT) tens of thousands of demonstrators took to the streets in the country's largest city, Sao Paulo, greeting Lula with thunderous cheers when he was hoisted onto a parked truck to address the crowd.
But the ruling party's nationwide show of force was insignificant compared to the over three million who turned out on Sunday calling for Rousseff's ouster. PT claimed that 1.2 million in 55 cities came out in support.
With Rousseff fighting a newly re-launched impeachment bid and financial markets apparently betting her government will collapse, the Workers' Party sought to show it still retains the support that made it the dominant force in Brazilian politics over the past 13 years.
Rousseff's move to make her embattled mentor her chief of staff has triggered outrage among opponents, who filed some 50 court cases challenging the nomination over allegations that Lula was seeking ministerial immunity to avoid arrest in an explosive corruption scandal.
A Rio de Janeiro federal court ruling blocking him from taking up his new post was overturned on appeal. But Brazilian media soon reported that a new federal court injunction suspending the appointment had been leveled. Dozens of similar challenges are pending, and the Supreme Court has yet to rule on the government's request to definitively settle the matter.
No clashes were reported at the demos, which had raised fears of violence in a climate of soaring tensions.
On Friday morning, riot police in Sao Paulo fired stun grenades and water cannons to disperse some 150 hard-core anti-government protesters. The group had been camped out for nearly two days, blocking the very same avenue where Rousseff's supporters later marched.
The ongoing protests come against the backdrop of new impeachment proceedings against Rousseff. An impeachment committee in the lower house of Congress held its first session Friday, saying it expected to reach a decision within a month on whether to recommend removing the president.
Its recommendation will then pass to the full chamber, where a vote by two-thirds of the 513 lawmakers would trigger an impeachment trial in the Senate.
Rousseff is accused of manipulating the government's accounts to boost public spending during her 2014 re-election campaign, and again in 2015 to mask a deep recession.
The battle to own the streets follows a day of pandemonium in Brasilia, where Rousseff swore in Lula, 70, as her new chief of staff Thursday -- only to have the courts block the appointment.
The Rio federal court intervened after a crusading anti-corruption judge leaked a wiretapped phone call suggesting the president was trying to shield her mentor from prosecution on money-laundering charges.
Lula, who stepped down in 2011 after presiding over an economic boom, is charged with accepting a luxury apartment and a country home as bribes from construction companies implicated in a multi-billion-dollar corruption scam at state oil company Petrobras. He denies involvement.