Neymar ordered to pay US$ 52.2 million in back taxes to the Brazilian Treasury
Saturday, March 19th 2016 - 06:09 UTC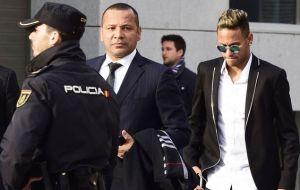 A Brazilian court has found Barcelona striker Neymar guilty of tax fraud and ordered him to pay 188.8 million Reais (US$ 52.2) in back taxes, interest and penalties according to reports on the local media on Friday.
The ruling, which was handed down on March 4, according to the daily Folha de Sao Paulo, found that the 24-year-old Brazilian failed to pay all the tax he owed on income stemming from his contractual relationships with Barça, Brazilian club Santos FC and U.S. sportswear giant Nike.
The administrative court in Rio de Janeiro ruled that Neymar used three companies linked to his family – Neymar Sport e Marketing, N&N Consultoria Esportiva e Empresarial and N&N Administracao de Bens, Participacoes e Investimentos – to avoid the payment of 63.6 million reais ($17.55 million) in taxes between 2012 and 2014.
The remaining amount he was ordered to pay – 125.2 million reais ($34.54 million) – corresponds to interest and penalties.
Prosecutors said the player sought to benefit from a lower tax rate by fraudulently declaring money he received from his signing by Barcelona in 2013 to be income earned by his family's companies.
Neymar also failed to report income from publicity and image rights deals and other contracts signed with FC Barcelona and other companies between 2011 and 2013, according to Brazilian tax authorities.
The tax, interest and penalties Neymar has been ordered to pay are exactly equivalent to the amount of Neymar's assets a judge ordered frozen last September.
Neymar may still appeal the ruling to the Federal Administrative Council of Tax Appeals, or CARF, a division of Brazil's Finance Ministry that is responsible for imposing fines on tax evaders.