Argentine runner wins Falklands' Standard Chartered marathon in record time
Tuesday, March 22nd 2016 - 15:38 UTC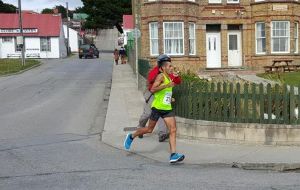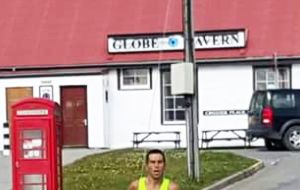 An Argentine long distance runner has won the Falkland Islands "Standard Chartered Stanley Marathon" which is officially the World's Most Southerly AIMS-Certified Marathon. Rafael Lencina from the northern province of Tucuman completed on Sunday the 26 miles in 2 hours 35 minutes and 34 seconds, which is also a new record for the competition.
According to media from his province Lencina was training for the competition during the last eight months and the last three weeks were completed at a High Performance Centre in Cachi Salta, which is ideal for running along hills.
Runner up was Thomas Kirby, fifteen minutes behind and in third place another Argentine competitor, Jorge Ruden Mourelle who has competed in past editions of the event.
Lencina was most satisfied and happy with having won the marathon, according to Martinez Pastur, who competed for the sixth time and acted this time also as his coach.
"I want to be in the podium and if possible win," Lencina confessed to his coach.
"Rafa is great athlete, he feels agile and strong" said coach Martinez Pastur.
Another group of runners from Tucuman also participated in the four runners relay, three covering 6.25 miles each and the last 7.25 miles. The team was made up of Martinez Pastur, his wife Colombres Garmendia, Malvinas veteran Marcelo Marano and Laura Palladino a ladies' garments designer.
Another Argentine, Jorge 'greyhound' Mourelle managed to make the third place. He is from the town of San Vicente in Buenos Aires province.
Mourelle participated in the competition with two friends from his town, Pablo Matayoshi and Alejandro Canale, and both completed the 42 kilometers marathon.
Mourelle also competed in last year's edition of the Stanley marathon.
According to the terms of the Standard Chartered competition Lencina is entitled to a prize of £1,100 and Mourente £ 350. The entry fee was £ 40 per runner.