Argentine congress celebrates UN continental shelf decision as a big plus for Malvinas dispute
Tuesday, March 29th 2016 - 03:25 UTC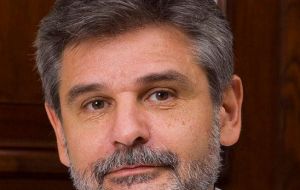 Lawmaker from president Mauricio Macri ruling "Let's Change" group, Eduardo Amadeo, celebrated the UN recognition of Argentina's continental shelf extension presentation which means a strong support in the Malvinas Islands' sovereignty dispute with the UK, but also increased the country's territory by at least 35%.
"This does not imply any violent action, it improves our diplomatic position, our position before the world as owners of an even larger sea", Amadeo told a local radio in Buenos Aires on Tuesday.
The UN Commission on Limits of the Continental Shelf, CLCS, a group of renowned experts under the umbrella of the Law of the Sea adopted by consensus the recommendations of a presentation from Argentina in 2009, referred to the outer limit of the country's continental shelf. This represents an additional 1.7m sq km to the current 4.8 m sq km, measured from the base line to the 200 miles maritime limit.
This recognition "gives greater strength to dialogue, it opens the places where Argentina can claim sovereignty and further reinforces the value of diplomacy as the path to recover the Malvinas Islands", added Amadeo.
"Maritime limits are an issue of great global importance that can lead to conflicts. Acknowledging the new limits improves Argentina's projection over Antarctica" added the member of the Foreign Relations Commission. "We have a greater support for our diplomatic future".
Likewise Jorge Taina, former foreign minister and currently president of Parlasur (Mercosur parliament) said that "25 years ago Argentina made a first approach to the UN saying that our sea limits were wrongly measured because our continental sea reached further out".
"The UN decision is a most important sovereignty recognition" added Taiana who emphasized that "Now Argentina has a sovereign right over the seabed, the hydrocarbons and the sedentary species"
"The convention on the Law of the Sea which was negotiated until 1980s and only became effective in the nineties, among other things regulates sea limits. Countries can extend their sovereignty right over the seabed as long as this is part of the continental shelf", explained the former minister.
He said it was a task of years but showed that Argentina has a far greater continental shelf and the Malvinas Islands, "are inside that shelf".
Daniel Filmus the former head of the ex Malvinas Affairs Secretariat also underlined the significance of the announcement and extension of the continental shelf, and recalled the efforts during the Kirchner years.
"A most important result for a State policy", said Filmus. But given this new recognition from the UN, "will the UK accept to dialogue on the Malvinas Islands sovereignty", asked the member of Parlasur in his twitter account.