Falklands bid farewell to Sea King Helicopters
Friday, April 1st 2016 - 01:30 UTC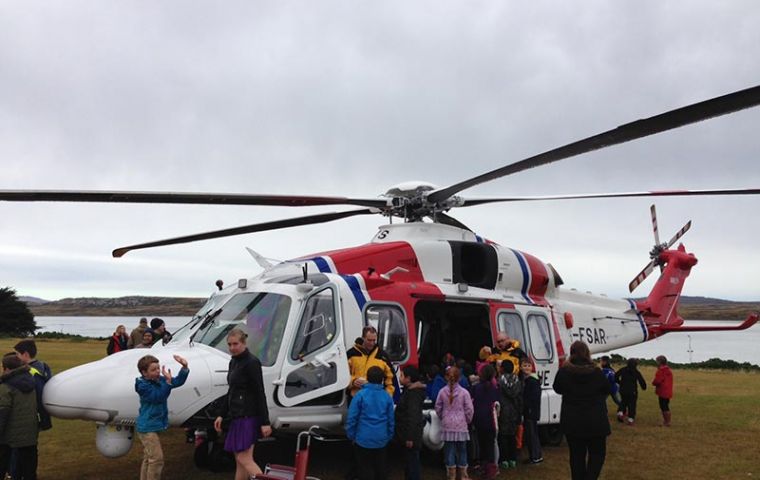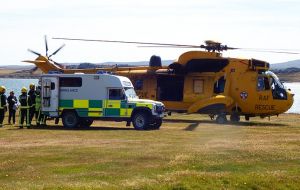 The Falkland Islands community bid farewell to two Search & Rescue (SAR) helicopters today after over three decades of service. Both the two RAF Sea King helicopters were brought to the capital Stanley today for the local community to say goodbye, as well as meet the crew who man the aircraft. The new AAR helicopter, which will replace the existing RAF SAR service, was also present at the farewell today.
Today marked the end of era for the Royal Air Force (RAF) SAR helicopters as the Falklands bid farewell to the famous yellow Sea King aircraft after over three decades of service. The RAF has recently being drawing to close its search and rescue air operations in the Falklands – as well in the UK and Cyprus – as service is handed over to other contractors.
The yellow Sea King helicopters have a long history of service in the Falklands and their crews have saved countless lives. Most recently the SAR helicopter was used, in conjunction with the HMS Clyde, to rescue an injured cruise passenger some 300 nautical miles off the coast of the Falklands after they had been bitten by a fur seal in South Georgia.
The SAR helicopter crews over the last three decades in the Falklands have also included royalty, with two British Princes serving in the Falklands. Prince William, the Duke of Cambridge, was stationed in the Falklands for 6 weeks in early 2012 as a RAF helicopter SAR pilot; a deployment which caused a diplomatic row at the time with Argentina. Prince Andrew, the Duke of York, also served as a helicopter pilot, but during the Falklands War in 1982.
AAR together with British International Helicopters (BIH) and Air Rescue Systems (ARS) will replace the current RAF service after they were awarded the contract early last year. Speaking at the time, BIH stated "We are delighted to be working with AAR, a first class aviation services company with a commitment to excellence, best practice, and delivery that closely matches our own". Sir Peter Rigby, Chairman and Founder of BIH owners Rigby Group PLC added, "Backed by BIH's twenty years experience assisting UKMOD operations in the Falklands, I'm extremely confident in our combined ability to provide all the vital military helicopter services for the Islands".
The 10 year contract award was valued at approximately £180 million (c.$275 million).