L'Austral, sister of Falklands-incident Le Boreal, makes inaugural call in Gibraltar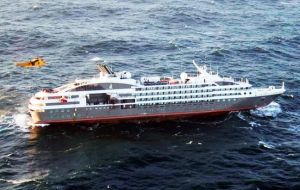 The smallest but possibly most exclusive cruise liner to visit Gibraltar this year pulled into port on Thursday. The L'Austral, a French liner, is also the first to make an inaugural call this season. The captain of the ship, Olivier Marien, was met by the Minister for Tourism and the Captain of the Port on board.
L'Austral may not look like much from the outside. In fact, if it weren't for the many rows of balconies, it would look more like a large yacht than a cruise liner. But when you take a look on the inside, it becomes apparent that the L'Austral caters to a very exclusive class of passenger. In fact only 264 of them fit on board, and Compagnie du Ponant targets a mature yet adventurous client keen to explore the most remote places on earth.
The L'Austral is a Green Ship – because it visits some very protected areas of the planet, all waste and pollution is kept on board. Expeditions to shore are carried out with a fleet of Zodiac RHIBS, each one of them with a nature expert on board who serves as a conservationist and a tour guide. The visit to Gibraltar is a first for this ship, but not for the company.
And for the best view on board, most of the time passengers are actually welcome on the bridge during voyages. As long – of course – as you don't touch anything. (GBC).
L'Austral is a sister ship of Le Boreal which suffered a fire incident in the engine room close to the Falkland Islands, last November, when 347 passengers and crew members had to be rescued.
The operation involved the RAF SAR helicopters, the RN patrol vessel HMS Clyde, L'Austral that was also in the area and the Falklands' government emergency services.
Ninety one of the 347 passengers and crew were air lifted to safety from life rafts, while the rest were transferred to L'Austral. The 91 passengers were hosted in Falklands homes and facilities in an operation organized by the local government.