Total/Exxon/Mobil drilling offshore Uruguay a record-deep well; first since 1976
Friday, April 1st 2016 - 06:07 UTC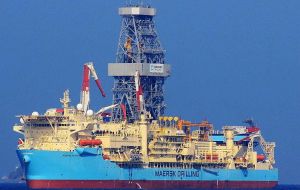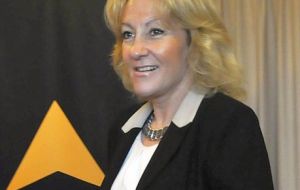 A consortium led by France's Total and U.S.-based super major ExxonMobil Corp started this week drilling for oil off Uruguay, Industry, Energy and Mining Minister Carolina Cosse announced. Uruguay is totally reliant on imports for its oil and has for decades tried to discover possible hydrocarbons resources both in the continent and offshore.
"Exploratory drilling activities have started on the sea floor. A well will be drilled at 3,400 meters water depth and then more than 2,000 meters into the seabed," Cosse said in an interview with the presidential communications office.
Cosse added that the depth "exceeds the current record" for such exploration. In approximately 100 days "we will know of any prospects of hydrocarbons".
The well was spud at the "Raya/1" prospect in Block 14, and "this milestone culminates four years of work in Round Uruguay II, and the first to be drilled offshore Uruguay since 1976.
France's Total was granted the most desirable offshore sector in 2012 in an auction held by the Uruguayan government. In November 2015, the French company sold a 35% stake in the project to ExxonMobil.
Norway's Statoil bought a 15% stake in the project in January and although Uruguayan state-owned oil company ANCAP has approved the deal, registration procedures have not been completed and the Norwegian firm does not officially appear in the ownership group as drilling begins, officials revealed.
The consortium contracted the Maersk/Venturer drilling ship for the operations.
In a recent interview Christian Tichatschke, Total's exploration director in Uruguay admitted it was a very risky project but 'we believe we can find something'.
"We actually don't have any discoveries in this area and this could be a play opener. This means it could be a first discovery that leads to a lot more discovers," Tichatschke said.
Raya-1 and subsequent appraisal wells would have to prove resources of more than 1 Bbbl of oil to make it worth developing at those depths, Tichatschke said.
"A discovery does not mean that Uruguay will be an oil producing country. A discovery is the first piece to a puzzle," he said.
Even if Raya is a dud, Ancap still plans to offer 17 blocks, including three returned by BP, in an offshore licensing round that will start this year and finish in 2017.
Most of Uruguay's power is hydro, with several dams built in the last eight decades as demand increased, but the country never gave up the possibility of finding oil in its territory and in the sixties contracted Total for the first surveys along the continental shelf. Later in 1976, Chevron drilled several wells, natural gas was discovered but with no confirmation of commercial volumes since the government of the time disagreed with the US company.
At the beginning of the century surveys were re-launched and on promising results two Uruguay Rounds were launched, quite successfully.
Optimism is based not only on surveys but the fact that the Pelotas basin in the south of Brazil apparently is neighboring Uruguay's continental shelf. Anyhow Uruguayan motorist would be very pleased if oil is discovered, they pay dearly for a liter of regular gasoline, US$ 1.45.