Mega corporation Odebrecht involved in Petrobras case, plans to sell assets to meet debt obligations
Sunday, April 3rd 2016 - 07:52 UTC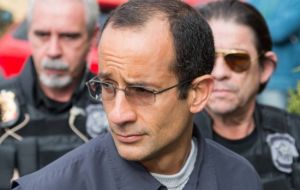 Troubled Brazilian construction company Odebrecht SA plans to sell about 12 billion reais (US$3.4 billion) in assets to help meet its debt obligations, according to the builder's chief executive officer. The company had a gross debt of 85 billion reais in 2014, the most recent figure available, but much of it is long-term debt and the biggest payments start only in 2025, Odebrecht CEO Newton de Souza said in an interview published Friday in the Folha de S. Paulo newspaper.
An Odebrecht spokeswoman confirmed the details in the report to The Wall Street Journal. Odebrecht's previous CEO, Marcelo Odebrecht, was arrested last year as part of the Operation Car Wash investigation into corruption at state oil company Petrobras.
Prosecutors overseeing the investigation accused Mr. Odebrecht of being one of the ringleaders of the graft scheme, which prosecutors say consisted of a group of companies overcharging the oil company for contracts, then allegedly funneling the extra money to Petrobras executives, politicians and political parties.
Mr. Odebrecht was sentenced to 19 years in prison for his part in the scheme. He has denied any wrongdoing and is appealing his conviction. The company has said it is ready to fully cooperate with prosecutors, though none of its executives have reached plea-bargain agreements yet.
Mr. de Souza acknowledged that the corruption scandal has hurt Odebrecht's financial situation, as have high interest rates and the country's weak economy. Selling 12 billion reais worth of assets should be enough to see the company through "the hurricane," he said.
Among the assets the company plans to sell are a hydroelectric plant and a highway, both in Peru, and a stake in an oil exploration block in Angola, Mr. de Souza told the newspaper.
All or part of Odebrecht's Ambiental water treatment and sewage unit could also be sold, he said. The company's 38.3% stake in chemical company Braskem isn't for sale, though Odebrecht is negotiating an agreement with banks using the stake for collateral, said Mr. de Souza.
Mr. de Souza didn't provide more details about the Braskem negotiations in the interview, and the company didn't respond to a request for more information.
Odebrecht's debts are spread out among the several companies in the corporate group and they have different maturity dates, he said. The construction unit of the company has 100 million reais in debt coming due in 2018, and another 500 million reais maturing in 2025, Mr. de Souza said.
Selling off different business units will automatically cut Odebrecht's total debt because those subsidiaries' obligations will leave with them, so the total reduction in debt after the sales will be more than 12 billion reais, he said.