Argentina begins next Monday road-show in UK and US to raise US$ 15bn
Saturday, April 9th 2016 - 16:39 UTC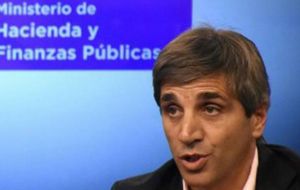 Argentine representatives will begin meeting investors Monday as the country returns to the international bond market for the first time in 15 years, it was announced by Economy minister Alfonso Prat-Gay from Bahamas, where he is attending the Inter American Bank annual assembly.
Excluded from foreign credit markets since a default in 2001, Argentina has made peace with litigant investors under the administration of president Mauricio Macri. Now it will hold a five-day road-show in the UK and the US as it preps a new bond expected to raise US$15 billion to help pay off holdouts who had rejected a debt restructuring.
Finance Secretary Luis Caputo and Undersecretary Santiago Bausili will each lead teams meeting with investors in London, Boston, New York, Washington and Los Angeles. Deutsche Bank, HSBC, JP Morgan and Santander are arranging the meetings, but few other details were immediately available.
"The dealers on it are keeping it hush-hush until they are ready to come to market," said Sean Newman, a senior portfolio manager at Invesco Fixed Income.
One of the lead banks said that investors had not yet been given any information about the ultimate size of the deal or the potential currencies of issuance. At US$15 billion, the transaction would be the largest ever from an emerging markets borrower, according to financial sources.
"It does mean something really huge for Argentina," said Bianca Taylor, a senior sovereign emerging markets analyst at Loomis, Sayles & Company. "They are back in the game with the curing of this longstanding issue with the holdouts, and they once again have access to the foreign capital markets."
However the yields of the bonds could be the essence of the issue. In effect some traders believe the yields could range from 7.5% to 8.5%, but a possible reference would be a Brazil 10-year currently trading at 6.13%.
Argentina reached the agreement in March and now has until April 14 to pay US$4.65 billion to the main investors that were fighting the country in court, though that deadline could be extended. The administration of president Macri has also reached other agreements with different investors, and will need even more cash to pay those bondholders.
The sum mentioned will not only help bond holders but replenish Central bank coffers and plug part of the huge fiscal deficit inherited from the previous Argentine government.