Keiko Fujimori poised to win Peru's first round presidential election, but opposition to her has climbed to 51%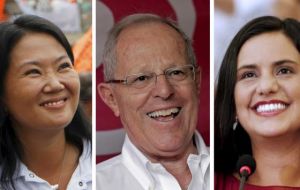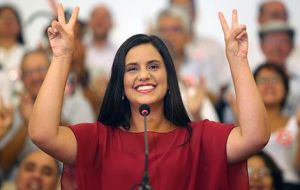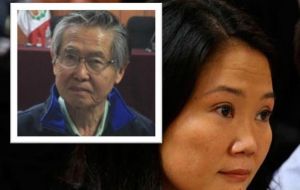 Keiko Fujimori is poised to win the first round of Peru's presidential election on Sunday, but with insufficient votes to avoid a second round on June 5, according to the latest survey with data collected on April 6. The Ipso poll showed Keiko with 37.7% of valid votes, and a double digit lead over each of her nine rivals.
The survey with a margin of error of 2.3 points, was conducted on April 6 after tens of thousands of Peruvians protested against 40-year-old Keiko Fujimori's candidacy on the anniversary of the day her father, former strongman Alberto Fujimori, ordered the military to shutter congress, 24 years ago.
Precisely this strong rejection questions the leading candidate chances in the run/off. In effect left wing hopeful Veronika Mendoza with a current 20.1% vote intention statically, could win 42% of votes while pro business Fujimori would get 43% in June.
Mendoza, a 35-year-old lawmaker promising "radical change" is the first time that has reached such a head-to-head situation in an increasingly complicated scenario.
Mendoza has surged on promises to ditch Peru's business-friendly constitution to virtually tie investor-favorite Pedro Pablo Kuczynski for second place in opinion polls - spooking markets that had bet on a fifth straight conservative government in the global minerals exporter.
The Ipsos survey showed Mendoza with 20.1% of valid votes in the first-round, while Kuczynski would get 20.3%. Those figures excluded 16.4% of blank or spoiled ballots.
Remaining undecided voters were mostly poor, rural and female voters who have opted for Mendoza as election day nears.
However, Mendoza also faces growing resistance from voters wary of upsetting a long stretch of economic growth with unorthodox policies.
The share of Peruvians who said they would "definitely not" vote for Mendoza rose three points to 44%, while opposition to Fujimori jumped six points to 51%. A Fujimori-Mendoza run-off would be the first in Peru to feature two women.
Kuczynski was seen beating Fujimori by seven points in a second-round election, according to Ipsos.