Brazilians favor early elections if both Rousseff and Temer are impeached
Monday, April 11th 2016 - 07:03 UTC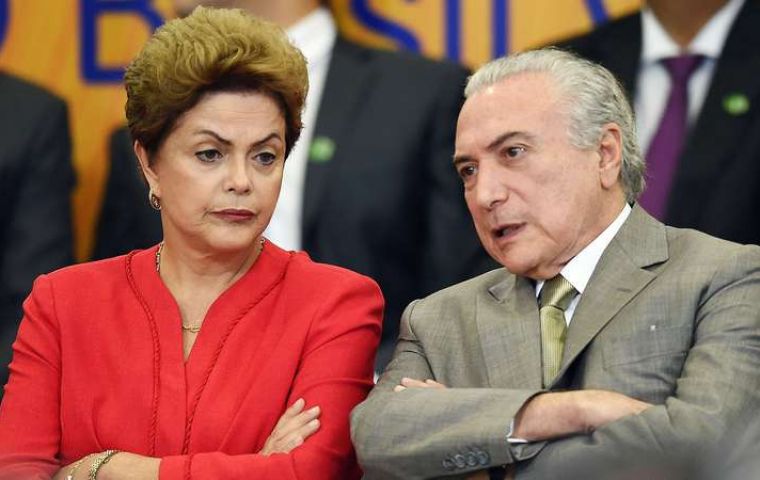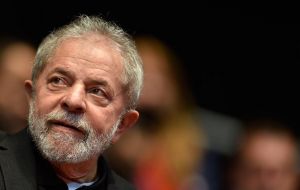 A smaller majority of Brazilians favor the impeachment of President Dilma Rousseff compared to last month, while more than half want her immediate successor to be impeached too, according to a survey released on Saturday by polling firm Datafolha.
The poll also showed growing support for former President Lula da Silva in a potential 2018 presidential bid, another boost for the ruling Workers Party as it fights opposition leaders' efforts to impeach Rousseff.
The survey was the first to gauge support for a possible impeachment of Vice President Michel Temer, who will become Brazil's president if Rousseff is suspended in coming weeks to face impeachment hearings. Many analysts have questioned his capacity to muster a stable coalition with little popular support and many leaders of his PMDB party under investigation for alleged corruption.
According to Datafolha, 61% of Brazilians want Rousseff to be impeached by Congress, compared to 68% in March, while 58% want Temer to have the same fate. If both are impeached and thrown out of office, 79% of Brazilians favor early elections, in which Lula would likely be a strong candidate.
Voting intentions for Lula rose to between 21 and 22%, depending on the election scenarios, Datafolha said. In all cases, he was competitive with environmental activist Marina Silva and outperformed leaders from the main opposition party, the PSDB. Temer has between 1 and 2% of voting intentions.
The survey suggested a sharp division between Lula's supporters and opponents. In effect 53% of respondents said they would not vote on Lula under any circumstances. However, 40% rated him as Brazil's best president ever, well above the second in the list, his predecessor Fernando Henrique Cardoso, with 14% of mentions in the poll.
Datafolha surveyed 2,779 people on April 7 and 8. The survey has a margin of error of plus or minus two percentage points.
The lower house of Brazil's Congress is expected to vote April 17 on whether to impeach Rousseff as she faces charges that she manipulated budget accounts in 2014 to boost her reelection prospects. If two-thirds of deputies vote for impeachment, the measure would move to the Senate. If half the Senate votes for impeachment, Rousseff would be temporarily suspended from office pending a full trial in the Senate.