Cristina Fernandez to be questioned in money laundering investigation; militants organizing support march
Monday, April 11th 2016 - 06:46 UTC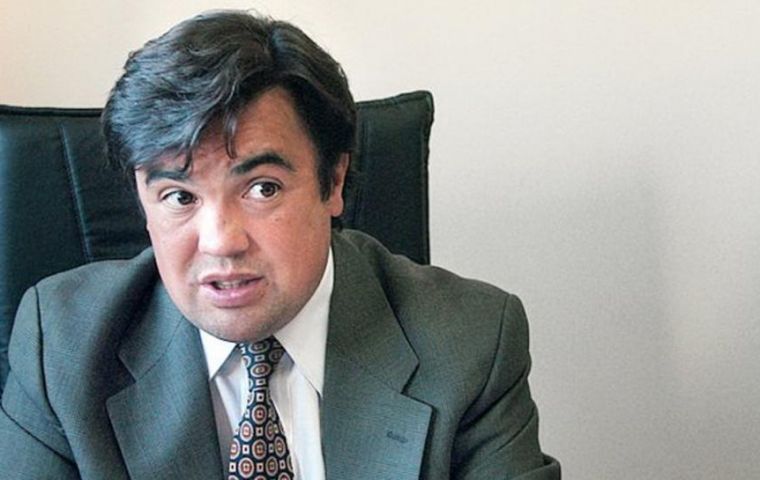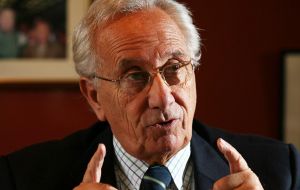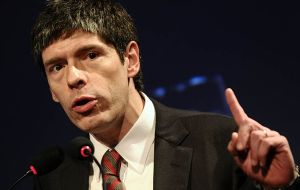 A Prosecutor decided on Saturday that former President Cristina Fernández de Kirchner must be included in a money laundering investigation following the testimony given by whistleblower Leonardo Fariña before Judge Sebastian Casanello on Friday.
Guillermo Marijuan has also targeted ex-minister of Federal Planning Julio De Vido, a prominent figure of the previous administration. The request to include the former president comes only days before she is scheduled to be questioned by Judge Claudio Bonadío in another case, concerning the sale of dollar futures.
Fernández de Kirchner and De Vido were reportedly included in the investigation on Friday night during an extensive period of questioning overseen by Casanello. Fariña is understood to have requested and received the protections afforded to whistleblowers in criminal cases. A gag order was re-imposed on the case following Fariña's questioning, meaning that the judge's decisions are not disclosed to the media or the defendants.
Casanello is currently the presiding judge not only for the case that has now involved the former president and Kirchnerite businessman Lazaro Baez but also the probe into whether or not President Mauricio Macri "maliciously" omitted declaring his connection to an offshore company in Panama.
In addition to Fernández de Kirchner, Marijuan also asked for an investigation into suspected money-laundering be opened against for Central Bank governor Juan Carlos Fábrega and Carlos Wagner, an executive in the construction sectors. Ernesto Clarens, a financier connected to Kirchnerite businessman Baez, was also reportedly named in Marijuán's request.
The money-laundering investigation, which commenced in 2013 following explosive allegations made by Fariña, has moved forward rapidly this week as Baez was taken into custody on Tuesday ahead of questioning in light of concerns that he was a flight risk.
The case, originally opened in 2013 during the CFK administration, was reactivated this year after a television program released footage showing Martin Baez,(son of Baez), his accountant Daniel Pérez Gadín and Fabián Rossi — the former husband of actress IIiana Calabro — counting money in the offices of the SGI financial consultancy, known as "La Rosadita."
The release of the footage was the latest in a series of revelations spawned by a long-standing investigative case into suspected money-laundering activity, Leonardo Fariña, alleged that the "La Rosadita" consultancy laundered money for Báez. He claimed that the money would be transferred to Switzerland via offshore accounts, and that there was so much money involved that it wasn't counted but weighed.
Fernández de Kirchner has limited her public appearances since she left office on December 9, 2015 but on Saturday social media accounts connected to her announced that she will be flying from Santa Cruz to Buenos Aires City on Monday ahead of her questioning in the dollar futures case. Reports indicated that the former president was in her home in El Calafate, Santa Cruz province yesterday.
As part of Saturday's developments, a raid on a business connected to Báez was reported in the province of Chaco. Border Guards were seen in Río Gallegos, Santa Cruz province, near the offices of a notary public known to have worked with Báez.
Marijuán did not request that Fernández de Kirchner be summoned for questioning and yesterday he departed for the United States as part of an ongoing investigation into irregularities in the Cerro Dragón oil well in Chubut province. Marijuán is not expected back in Argentina until the 16th and in his absence the Prosecutor Carlos Rívolo will be handling the file.
Sources cited by the DyN news agency said that Marijuán made the decision to move against the former president as a result of Fariña's statements.
The same sources also said that the prosecutor had requested that Fariña be offered a new identity and house arrest as part of a program for whistleblowers. Casanello has yet to issue a resolution with regard to that request and Fariña yesterday was transferred into a jail cell with security cameras in order to ensure his safety.
De Vido was Planning minister throughout the 12 years of Kirchnerite governments and was a key figure in the adjudication of public contracts. The accusations against Báez are that he and his associates were using siphoning off money from public contracts.
The rapid developments were sparked by Fariña, who has been in custody since 2014 on tax evasion charges and testified as a whistleblower on Friday. Criminal cases allow for those accused of crimes to reduce the length of eventual jail terms and receive privileges such as police protection while in jail in exchange for incriminating others.
The guidelines also provide for protection for those who fear for their security for having cooperated in "a transcendental and efficient manner in a federal judicial investigation."