First jet aircraft lands at St Helena recently finished airport
Tuesday, April 12th 2016 - 09:11 UTC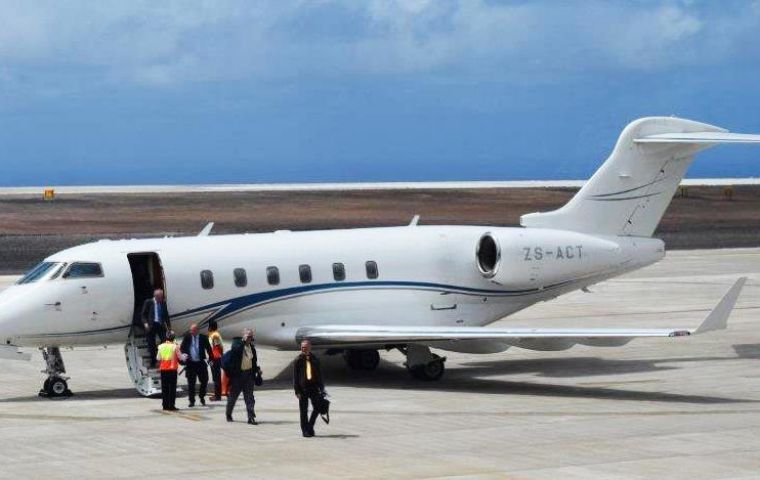 Great day of the British Overseas Territory of St Helena: the first jet aircraft landed at the recently concluded airport in the island located in the middle of the Atlantic Ocean. The business jet was chartered by Air Safety Support International (ASSI) to bring its team of five personnel to St Helena to assess St Helena Airport.
The flight departed from Lanseria Airport in Johannesburg on Sunday morning, calling at Walvis Bay, Namibia, for refueling and a weather update.
On board the aircraft were three pilots and eight passengers connected to the Airport project - including DFID Airport Project Manager, Nigel Kirby, and Certification Manager, Alan Shaw. The ASSI team will be led by Senior Aerodrome Inspector, Justin Rothwell, who first visited St Helena last year.
As of Monday 11 April 2016, the ASSI team will undertake its key on-site audit as part of the certification process. The Bombardier jet will conduct several flights during the visit for Air Traffic Control and other purposes.
It is expected that the aircraft will depart St Helena on Friday 15 April 2016, at around 08.30hrs. The ASSI team will return to the UK, prior to issuing their formal response regarding certification of St Helena Airport.
In November 2011, St Helena Government signed a Design, Build and Operate (DBO) contract with Basil Read (Pty) Ltd. The contract included £201.5 million for the design and construction of the airport, an additional amount - of up to - £10 million on shared risk contingency and £35.1 million for ten years of operation.
The project aims to provide air services to St Helena, fulfilling the UK Government's commitment to maintaining access to the Island, and provide it with a real opportunity for economic growth through tourism.
Both the St Helena Government and the UK Government hope that this will lead to eventual financial self-sustainability for St Helena, basically promoting tourism. The island has a piece of French territory which holds the residence and first burial of emperor Napoleon Bonaparte, who spent his last years, imprisoned by the British in the early 1800's.