Hero's welcome for Cristina Fernandez in Buenos Aires, where she faces first court investigation
Tuesday, April 12th 2016 - 08:30 UTC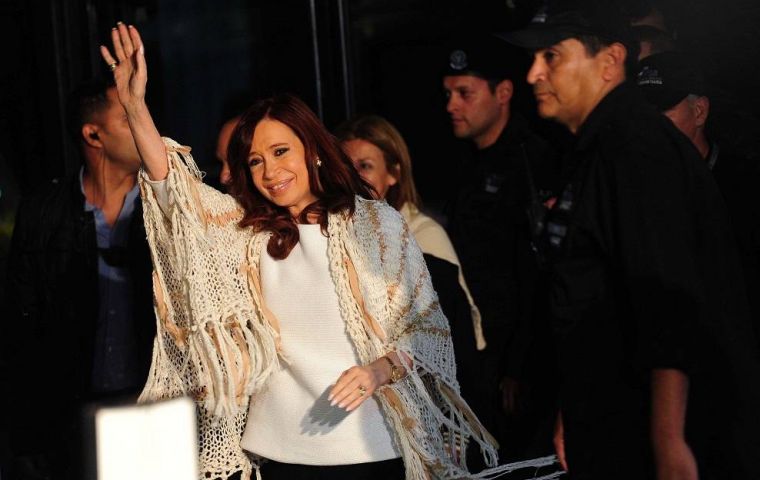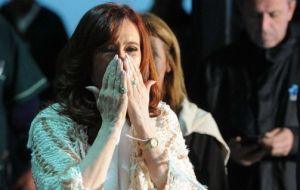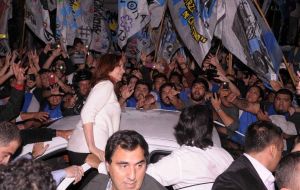 Supporters of former President Cristina Fernandez gave her a hero's welcome Monday night at a Buenos Aires metropolitan airport before she faces a court over her possible role in an alleged scheme to manipulate Argentina's currency.
Cristina Fernandez dominated the political landscape during eight years in office and left in December with high approval ratings despite economic woes and links to corruptions scandals.
Since ending a tenure marked by near daily television speeches and constant tweets, she has lived away from the limelight in her home in the southern province of Santa Cruz.
Flanked by police and illuminated by camera flashes, Fernandez smiled and waved at thousands of sympathizers who encouraged her with banners and chants ahead of her testimony Wednesday.
She is being investigated for possible involvement in a purported scheme to manipulate financial markets to keep the Argentine peso's value inflated, leading to a plunge in central bank reserves.
A federal prosecutor also recently asked to include her in two separate investigations involving allegations of money laundering. In addition, a businessman with close ties to her family has been arrested in another corruption probe.
Buenos Aires media reports that the welcome rally was organized by La Campora, a group headed by Cristina Fernandez son, lawmaker Maximo Kirchner. The political group was built with government resources during Cristina Fernandez second mandate of four years to promote Maximo's political career and mark independence from the Argentine hegemonic Peronist movement, which has dominated Argentine politics for the last seven decades.
Although Cristina Fernandez and her deceased husband and former president Nestor Kirchner belonged to the Peronist movement they always tried to create a political force which under the umbrella of the catch-all force was loyal to them.