Temer's national unity message: a blooper or anticipation of pos-Rousseff Brazil
Tuesday, April 12th 2016 - 08:52 UTC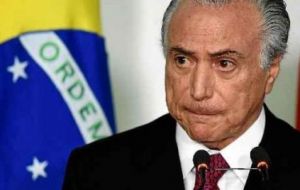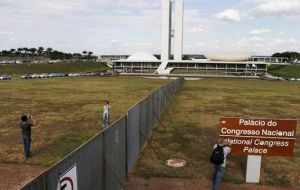 Brazil's vice president called for a government of national unity in a message that was released on Monday apparently by mistake, further complicating the political crisis and impeachment process against President Dilma Rousseff.
Vice President Michel Temer's 14-minute audio message sent to members of his own Brazilian Democratic Movement Party (PMDB) via the Whatsapp messaging app showed that Temer is preparing to take over if Rousseff is soon forced from office.
The audio was posted on the website of the Folha de S.Paulo newspaper and confirmed by Temer's aides as authentic. Aides said it was accidentally released and they quickly sent another message asking legislators to disregard it.
Later on Monday, members of a 65-member congressional committee voted 38 to 27 in favor of sending Rousseff to trial for breaking Brazil's budget laws in the first major step toward her possible removal from office.
The battle over Rousseff's impeachment has polarized the nation of 200 million people and brought the government of Latin America's largest economy to a virtual standstill.
While carefully stating his words did not anticipate the outcome of the impeachment process, Temer said in his message: "The big mission going forward is the pacification of our nation, the unification of our country."
"We need a government of national salvation and national unity," Temer said in the audio. "We need to unite all the political parties, and all the parties should be ready to collaborate to drag Brazil out of this crisis."
Supporters and opponents of the embattled populist leader gathered in the capital ahead of Monday's impeachment decision. Bracing for clashes, police erected a one kilometer long metal fence down the middle of the wide grass esplanade in front of Congress to separate rival demonstrators.
If Rousseff's opponents are successful, it would be the first impeachment of a Brazilian president since 1992 when Fernando Collor de Mello faced massive protests for his ouster on corruption charges and resigned on the eve of his conviction by the Senate.