Mysterious death of tens of tons of sardines in south Chile; consumption banned
Thursday, April 14th 2016 - 21:08 UTC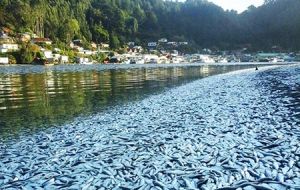 Chile's government has temporarily banned the consumption of sardines in the south of the country after hundreds of thousands of dead fish turned up floating along the shores of Queule River.
Television news footage showed masses of the lifeless silver fish more than a foot deep choking the waters in and around the river shores and boats.
At the weekend the authorities began clearing the shore lines. Experts are still investigating the cause of the death and any possible risk to human health.
Local media also reported that authorities were removing the sardines to a dumping site and banned the consumption of the fish, in case it poses a human threat. The same phenomenon happened last month.
Last week, SERNAPESCA tweeted images of the massive sardine die-offs. The images were captured during an aerial evaluation of the extent of the fish kill. The evaluation team included the mayor of Queule.
The town mostly inhabited by artisanal fishermen in located to the south of Valdivia and close to Temuco in the IX Araucania Region.