Rousseff to address the nation Friday evening while Congress debates her impeachment
Friday, April 15th 2016 - 18:14 UTC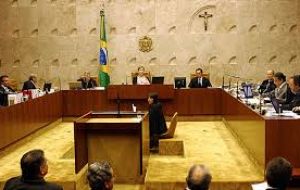 President Dilma Rousseff is scheduled to address Brazil on national television Friday evening, the same day that Congress started a three-day debate to decide whether there are enough arguments to begin the impeachment process that could lead to her removal from office. She is charged with manipulating budget accounts that helped her government present balanced accounts for the 2014 presidential elections.
According to the dailies O´Globo and Folha de Sao Paulo Dilma Rousseff will be on the air at Brazil´s prime time 20:00 and she is expected to defend her government and the achievements of the Workers Party, founded by her political mentor Lula da Silva.
On Thursday night the president lost a last ditch appeal before the Supreme Court to halt the impeachment debate on procedural flaws.
Congressmen in favor of her impeachment chanted "Dilma Out" at the opening of the debate, which is due to conclude with a vote on Sunday evening. Having lost the support of several allied parties in recent weeks, Rousseff is widely expected to lose Sunday's ballot, at which point the process will pass to the Senate.
The Supreme Court dealt President Dilma Rousseff a major setback in her bid to remain in power by ruling early Friday that an impeachment vote can take place this weekend in the lower house of Congress, where her opponents appear to have assembled the two-thirds majority needed to send the proceedings to the Senate.
Solicitor General Jose Eduardo Cardozo presented a motion Thursday seeking to block the proceedings in Congress, arguing that a pro-impeachment report that emerged from a 65-member special lower-house committee studying the matter had "procedural flaws."
That panel, more than half of whose members are under investigation for corruption or other serious crimes, voted 38-27 on Monday in favor of bringing an impeachment vote before the full lower house.
Drafted by opposition lawmaker Jovair Arantes, the report deemed credible the accusation that Rousseff's administration used loans from state-owned banks and other maneuvers in 2014 and 2015 to disguise the size of the budget deficit.
The solicitor general criticized Arantes' report for bringing up irrelevant issues such as a massive corruption scandal centered on state oil company Petrobras, "in which the president has not even been cited for questioning."
Had the Supreme Court ruled in favor of the motion, the proceedings would have returned to the committee, which would have had to produce a new report. But the high court voted 8-2 against the motion in the wee hours of Friday.
The lower house is scheduled to vote Sunday on the impeachment resolution. A two-thirds majority is required to send the matter to the Senate, where a simple majority will be enough to compel Rousseff to step down for 180 days pending completion of a trial.
Vice President Michel Temer, whose PMDB party announced late last month that it was formally breaking with Rousseff's Workers Party administration, would then become acting president.
Temer is also under investigation for alleged involvement in an illegal ethanol-purchasing scheme.
Brazilian media reported that on Thursday evening Temer shared a ´victory dinner´ with his main PMDB party advisors and the leadership of PSD, the main opposition party in congress and which allegedly has reached an agreement for a 'national unity' government once Rousseff is removed from office.